16.03.2023 | News
The Beyond the Grid Fund for Africa (BGFA) is today opening a new Call for Proposals (BGFA5) in Uganda, with the aim of further accelerating the provision of off-grid energy services in Uganda by providing results-based financing to energy service providers.
The new Call in Uganda (BGFA5) enables selected energy service providers to accelerate their business growth in Uganda. BGFA financing is made available for standalone solar solutions, mini-/micro-grids and productive use of energy solutions under a single funding window. The indicative individual contract size is expected to be between EUR 1 and EUR 4 million. Funds for the second Call in Uganda have been contributed by Denmark and Sweden.
Interested private sector companies are invited to apply for funding under the new Call for Proposals (BGFA5). However, those that were successful in securing financing under the previous funding round in Uganda (BGFA3) are not eligible for funding for similar solutions under the new Call.
"We are very pleased to open our second round in Uganda. We encourage international companies to utilise the expertise and capacities of local market actors. Less experienced companies are also eligible for targeted technical assistance and additional support through the BGFA Ugandan job creation and skills sub-programme," comments Tina Möller, Programme Manager at Nefco.
The new Call will use a simplified, single stage application process, in which applicants are requested to submit an application with streamlined requirements while still adhering to the BGFA approach. Information about eligibility criteria and documents required to be submitted as part of the application is included in the Application Guidelines.
Increasing employment and skills in the off-grid sector in the country is a key priority of BGFA's expansion in Uganda and the job creation and skills sub-programme was launched in December 2022 to support the development of technical, sales and business skills for BGFA-funded companies. Companies contracted through the new funding round (BGFA5) are offered the opportunity to join this sub-programme to further develop their businesses.
The Application process
The funding round is open for applications through an online system. The application form will be available through the system at 16:00 Helsinki time (EET) on 16 March 2023. The application system will close for submissions of applications on 4 May 2023 at 12:00 (noon, EEST).
Applicants are requested to send any questions regarding the call and application process through the online application system by 6 April 2023 at the latest. Answers will be published in a generic form and made available to all registered applicants in the application system on 14 April 2023. Kindly only post questions related to the BGFA5 funding round via the online application system's support section, as specified in the Application Guidelines.
The evaluation of the received applications is expected to take place at the end of Q2 and qualified projects will undergo due diligence in autumn 2023.
For further information about the Call for Proposals:
Visit beyondthegrid.africa and register for the online application system to apply for funding at beyondthegrid.africa/register.
Download the Application Guidelines for more information on the application process and eligibility criteria.
For further information, please contact:
Tina Möller, Programme Manager at Nefco
tina.moller@nefco.int, +358 10 6180 651
Kari Hämekoski, Senior Programme Manager at Nefco
kari.hamekoski@nefco.int, +35810 618 0660
About BGFA
The Beyond the Grid Fund for Africa (BGFA) is a multi-donor facility established and managed by Nefco – the Nordic Green Bank. Nefco is an international financial institution based in Helsinki, Finland, focusing on environmental and climate investments and fund management. The BGFA programme is implemented by Nefco with the support of two project implementation partners. NIRAS is a development and engineering consultancy company headquartered in Denmark with offices in over 25 countries across Europe, Africa, South Asia and Latin America. The Renewable Energy and Energy Efficiency Partnership (REEEP), an international multilateral partnership based in Vienna, Austria, works to accelerate market-based deployment of renewable energy and energy-efficiency solutions in developing countries.
The current EUR 126 million BGFA programme was established in 2019 on Sweden's initiative through the Swedish International Development Cooperation Agency (Sida). It has since been developed by Nefco into a multi-donor programme. Sweden contributes SEK 835 million (EUR 80 million) from the Swedish embassies in all BGFA project countries. Denmark contributes DKK 117.5 million (EUR 15.8 million) through the Ministry of Foreign Affairs to support the programme in Uganda. Germany provides EUR 7.5 million through its development bank KfW to support the BGFA country programme in Zambia. Norway contributes NOK 200 million (EUR 19 million) through the Norwegian Agency for Development Cooperation Norad.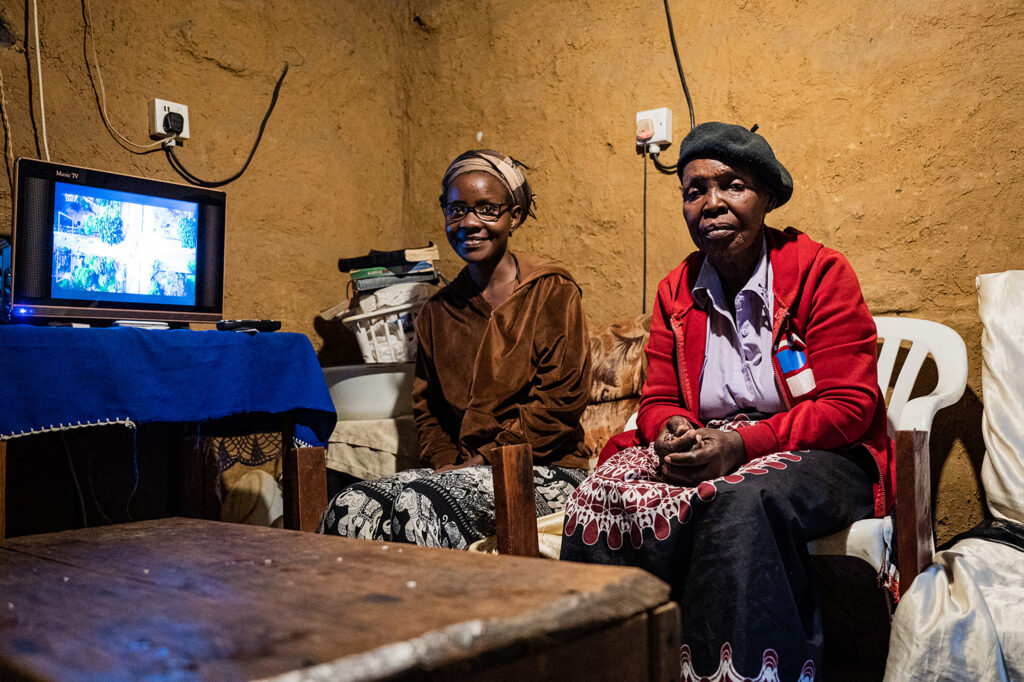 Photo: Two women watching TV with an off-grid connection through a Solar Home System appliance – Jason Mulikita for BGFA
---