The Baltic Sea Action Plan Fund opens a new call for proposals aiming to improve the ecological state of the Baltic Sea. The deadline for submitting applications is 6 February 2023.
The Baltic Sea Action Plan Fund (the BSAP Fund) is an early-stage financing mechanism for actions and measures to address environmental issues affecting the Baltic Sea watershed. The BSAP Fund has opened a new call for proposals to speed up the implementation of the HELCOM Baltic Sea Action Plan (BSAP), which includes 200 concrete actions to be carried out by 2030, with the ultimate goal of a healthier Baltic Sea. New project proposals will be accepted until 6 February.
"Accomplishing the ambitious goals of the HELCOM Baltic Sea Action Plan requires continuous efforts across all sectors of society, including non-profit foundations, the private sector and financing, the latter also being one of the horizontal actions of BSAP," says Rüdiger Strempel, Executive Secretary of HELCOM. "The economic benefits of achieving a healthy Baltic Sea ecosystem are evident and backed up by impressive figures. Likewise, we should not forget that the cost of insufficient protection can be substantial and could significantly impair the prospects of the growing sustainable blue economy in the region."
Concrete projects supporting the Baltic Sea Action Plan
Since the establishment of the BSAP Fund in 2010, a total of 47 projects have been completed. Financed projects have accelerated the timeline for reaching the targets of the Baltic Sea Action Plan as well as the environmental benefits for the Baltic Sea. During the previous financing round, EUR 1.08 million in funding was granted for nine projects.
Sectors financed by the BSAP Fund must address one or several areas highlighted in the Action Plan, including biodiversity, eutrophication, hazardous substances, sea-based activities, marine litter, pharmaceuticals, underwater noise and seabed disturbances. For example, the first forestry project funded by the BSAP Fund focuses on the promotion of continuous cover forestry to reduce eutrophication in the Baltic Sea. Another ongoing project focuses on improving the retention of nutrients in fields to prevent discharge into the Baltic Sea.
"There has been major progress over the past 10 to 20 years regarding the environmental state of the Baltic Sea, but much more still needs to be done. We are looking forward to receiving proposals that, while producing concrete results in line with the Baltic Sea Action Plan, have the potential to be scaled up," says Dennis Hamro-Drotz, Fund Manager for the BSAP Fund at Nefco.
Apply for funding for Baltic Sea projects by 6 February 2023
Financing can be awarded to commercial or non-commercial actors for projects in the Baltic Sea Region and its catchment area for demonstration purposes, project preparation and development, project implementation and institutional support. Applicants and projects that have previously received funding from the BSAP Fund are also eligible to apply. Read more about the application process and eligibility criteria and find the application form on www.nefco.int/bsap.

How to apply for funding from the BSAP Fund:
Visit nefco.int/bsap and read the eligibility criteria
Download the application form and fill in your project proposal
Send your completed form to bsapfund@nefco.int by 6 February 2023
For further information, please contact:
Dennis Hamro-Drotz, Senior Investment Manager, Nefco
dennis.hamro-drotz@nefco.int, (+358) 010 6180 641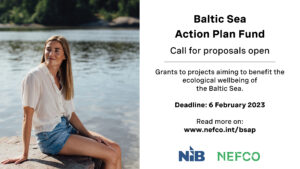 About the Baltic Sea Action Plan Fund
The aim of the Baltic Sea Action Plan Fund is to help fund concrete projects, small or large, and, regardless of national borders, initialise promising solutions that can be scaled up. Since its establishment, the fund has financed 47 completed projects, with 21 projects currently ongoing. These projects are spread out across the Baltic Sea watershed, including in Estonia, Finland, Lithuania, Poland and Sweden. The Baltic Sea Action Plan Fund is co-managed by Nefco and the Nordic Investment Bank and funded by the governments of Finland and Sweden. Read more: nefco.int/bsap