27.04.2023 | News
The NIP Ukraine Water Modernisation Programme, funded by the European Union (EU), started back in 2020 with the aim to modernise water and wastewater treatment systems in Ukraine, increase energy efficiency and improve the water quality and distribution services to thousands of Ukrainians. Despite Russia's unprovoked invasion of Ukraine in February 2022, six projects under the programme are proceeding, of which most are expected to be fully implemented in 2023.
The Nefco-managed programme was the first Nefco action in Ukraine to receive funding from the EU. The aim of the programme is to modernise the treatment processes, increase their energy efficiency and improve the water distribution services to Ukrainian citizens, with investment loans from Nefco and grant funding from the EU-funded Neighbourhood Investment Platform (NIP). Like most Nefco-financed public projects in Ukraine, the programme has been focusing on small and medium-sized municipalities to support (Ukrainian) water utility companies to improve water supply services, modernise water and wastewater facilities, implement energy-efficient technologies and reduce discharges of polluting substances in rivers, lakes and water reservoirs in Ukraine.
"Initially, ten cities across Ukraine were included under the programme, which also received support with strategic investment planning and creation of long-term water safety plans based on World Health Organisation (WHO) guidelines and in line with EU standards and directives. This additional support to the participating municipalities will help them build capacity for long-term development of water treatment processes and the delivery of improved water quality after the war," comments Ronny Nilsson, Senior Advisor at Nefco.
The work on preparing water safety plans for the cities included risk assessments, identification of possible hazards and risks to health and the environment associated with those hazards, as well as recommendations for measures to help identify potential problems. The water safety plans were used as training material for staff and to support the development of the monitoring of the water supply and wastewater treatment systems in all participating cities and their water utility companies in 2021.
Project implementation is ongoing
When Russia's full-scale invasion of Ukraine began on 24 February 2022, the investment projects were in different stages of implementation: from procurement to ongoing construction work. The war significantly disrupted the operation of municipal water utilities, with the staff having to continue working despite missile attacks and power outages. Cities also faced new challenges from the massive flow of internally displaced persons (IDPs) from the occupied territories in the east and south of Ukraine to other parts of the country.
"Nefco has financed energy-efficiency projects in Ukraine for many years. When the full-scale war broke out, quitting was not an option, because a stable water supply and clean water are critical to ensure basic living conditions for the Ukrainian population," comments Iryna Fedorenko, Investment Adviser at Nefco. "Furthermore, the cities have to adapt to respond to a growing number of water supply users due to internally displaced persons, which in some cities is up to 15 per cent of the total number of inhabitants. We are proud that despite all the challenges, and thanks to additional grant funding from the NIP and the remarkable resilience of the Ukrainians, we have been able to continue project implementation in most cities."
However, significant adjustments have had to be made to the planned activities, and the grant funding from the NIP facility has been restructured and repurposed. Six projects in Central, Western and Northern Ukraine are continuing to be implemented while four projects in Eastern and Southern Ukraine have had to be terminated. One project has been repurposed to address the urgent need to support the city's waste management.
In 2022, amid the ongoing hostilities, three wastewater pumping stations were fully modernised in one of the participating cities, and the installation of water meters in building blocks was completed in another city. Activities to be implemented in 2023 aim to modernise and automate mainly worn-out water supply and wastewater discharge systems. The scope of planned works includes replacement of water and wastewater pumps with auxiliary equipment for automated operation, and replacement of ventilation systems and control cabinets.
Once all the water modernisation projects have been fully implemented, they are expected to result in over 3,800 MWh of annual electricity savings, approximately 3,000 tonnes of annual CO2 emission reductions, as well as approx. EUR 1 million in annual municipal budgetary savings. In total, some 700,000 Ukrainians, including about 85,000 internally displaced persons, will benefit from the implemented projects by receiving improved water quality and reliable water supply.
All planned improvements will significantly increase the energy efficiency of the water supply facilities and prolong their operation time. The staff at the municipal water utility companies will also benefit from improved safety conditions and health due to the automation of the water treatment processes.
For further information, please contact:
Ronny Nilsson, Senior Adviser, Nefco
ronny.nilsson@nefco.int, +358 10 618 06 42
Iryna Fedorenko, Investment Adviser, Nefco
+380 96 270 9622, irina.fedorenko@nefco.int
About the Neighbourhood Investment Platform (NIP)
The Neighbourhood Investment Platform (NIP) is a mechanism aimed at mobilising additional funding to finance capital-intensive infrastructure projects in EU partner countries covered by the European Neighbourhood Policy (ENP) in sectors such as transport, energy, environment and social development. The NIP also supports the private sector, mainly through investment grants and risk capital operations targeting small and medium-sized enterprises. The NIP strives to pool grant resources from the EU budget and the EU Member States and to use them to leverage loans from European Financial Institutions as well as contributions from the ENP partner countries themselves. In this way, the EU backs its neighbours' priorities and supports them in carrying out key investments and boosting economic development.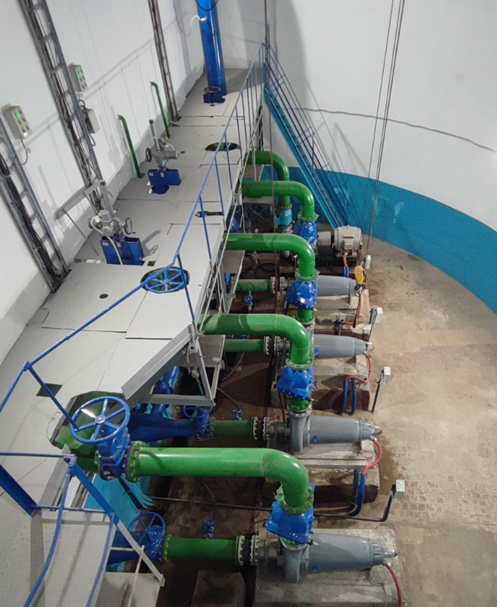 Photo: Modernised water pumps in Ukraine through the NIP Ukraine Water Modernisation Programme – for Nefco
---