01.02.2023 | News
With the loan from Nefco, the Swedish premium EV motorcycle manufacturer will proceed with a large-scale international commercialisation of its unique technology and thereby further its contribution to the transition towards zero-emission vehicles.
Nefco – the Nordic Green Bank – has granted financing for RGNT Electric AB, a Swedish motorcycle manufacturer specialised in premium electric motorcycles (EV motorcycles). RGNT EV motorcycles produce zero CO2 tailpipe emissions and are low maintenance, while also utilising recycled materials in the production cycle, representing a sustainable option for low-emission transportation.
The scale-up financing from Nefco will enable international commercialisation of RGNT Electric's unique technology and global applications in a fast-growing market.
"RGNT Motorcycles is uniquely positioned to be at the forefront of the massive, ongoing, global transition towards sustainable e-mobility. With the loan from Nefco, we are now able to position RGNT for accelerated growth and embark on the exciting journey from promising start-up to exponential scale-up. We are re-inventing motorcycling by empowering our customers to move towards an environmentally friendly and sustainable future in style," said Göran Karlsson, CEO, RGNT Motorcycles.
Connectivity plays a huge role in RGNT's user experience. The company provides OTA (over-the-air) updates and a companion app for its customers that provides real-time updates on charging status, remaining charging time and battery range. The app also guides riders towards improved bike maintenance by helping them care for their vehicle's battery to extend its life cycle and notifying them when it predicts maintenance is needed, ensuring greater efficiency and energy savings.
Road transport is the second largest source of greenhouse gas (GHG) emissions and fine particulate matter, and the largest source of NOx in Europe, according to the European Environment Agency. A recent proposal by the EU Commission aims to reduce air pollution from new motor vehicles to meet the zero-pollution goal under the European Green Deal.
"RGNT's EV motorcycles support the transition towards zero-emission vehicles and are thereby making a substantial contribution to climate change mitigation. We are excited to be part of accelerating RGNT's promising electric motorcycle technology," said Victor Degerlund, Senior Investment Officer, Nefco.
In addition to zero CO2 tailpipe emissions, RGNT motorcycles can achieve low indirect emissions depending on the electricity mix used for charging. RGNT motorcycles, with their unique technology, do not contribute to noise pollution or other types of pollution typically associated with fossil fuel motorcycles. The battery casings on RGNT motorcycles are made from recycled aluminium and the company is currently investigating utilising even more recycled material in their production, closing material loops and thereby reducing the environmental impact of manufacturing.
For more information, please contact:
Victor Degerlund, Senior Investment Officer, Nefco
victor.degerlund@nefco.int, +358 10 6180781
Gideon Schipaanboord, Global Head of Marketing, RGNT Motorcycles
gideon.schipaanboord@rgnt-motorcycles.com, 0031641382239 / 0046-702134961
About RGNT Motorcycles
Founded in 2019 in Sweden, we aim high. Wildly ambitious, yet underpinned by a strong vision and in-depth knowhow, we plan to silence boulevards, backroads and beaches globally by quickly expanding in a fast-growing bike-tech market. In shaping our electric future, we honor the great design achievements of the past. Our passion for iconic motorcycle design drives us to put high-end, timeless quality left, right and center in all our designs. Simply look at our bikes to see what we mean. Bound to disrupt the motorcycle realm, our designs are high-quality, timeless and packed with game changing innovation. Our quickly expanding family of motorcycles currently consists of the Classic and the Scrambler. rgnt-motorcycles.com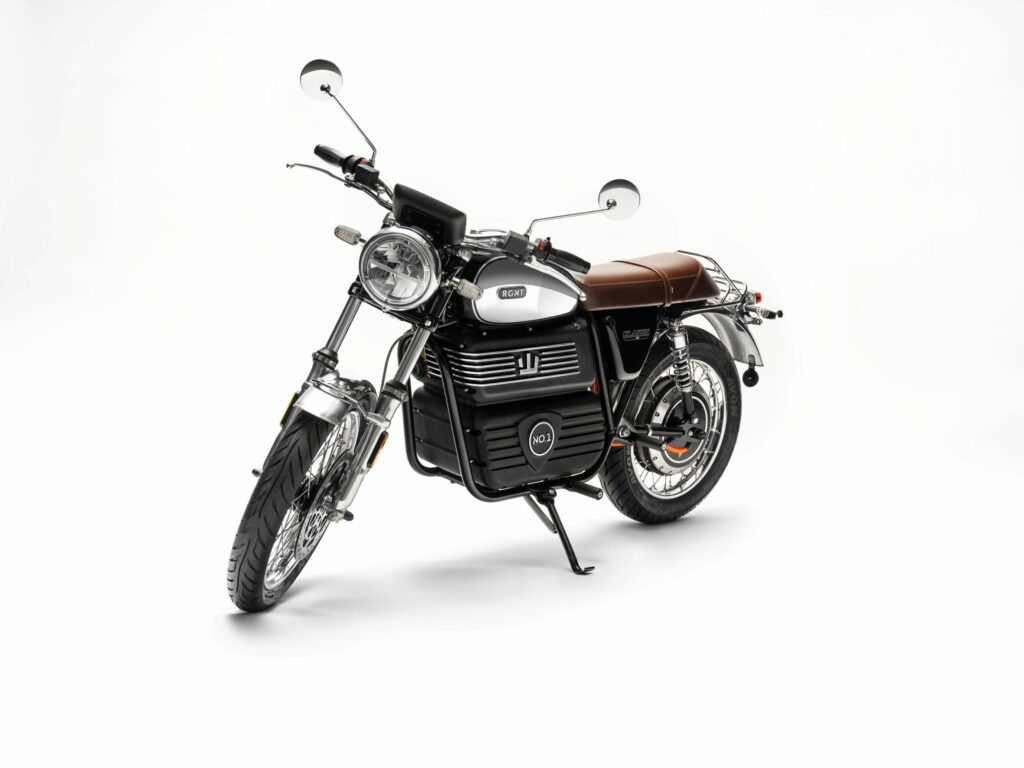 ---