08.06.2023 | News
Initiated as a response to Russia's invasion of Ukraine in February 2022, 'EU Support for Urgent Housing Needs for Internally Displaced Persons (IDPs) in Ukraine', funded by the European Union and managed by Nefco, aims to provide accommodation for Ukrainian citizens forced to flee their homes as a result of the armed aggression of the Russian Federation. Project implementations in ten cities in western and central Ukraine are currently ongoing, most of which are expected to be completed by the end of 2023.
Russia's brutal invasion of Ukraine in February 2022 provoked a refugee crisis unprecedented in the 21st century. In response, a new action was initiated in Ukraine using funds repurposed from the programme 'Ukraine Solid Waste Management and Energy Efficiency Programme in Amalgamated Municipalities', which was interrupted by the outbreak of hostilities. 'EU Support for Urgent Housing Needs for IDPs in Ukraine' is funded by the EU through the Neighbourhood Investment Platform (NIP) and managed by Nefco.

"Following the full-scale aggression against Ukraine, the EU deployed a significant assistance package to address the critical needs of IDPs in Ukrainian municipalities. The main objective of this EU-funded project with Nefco is to improve the capacity of communities to offer housing and basic services to IDPs through the refurbishment of existing municipal infrastructure to meet higher energy-efficiency standards," says Chloé Allio, Head of the Economic Cooperation, Energy, Infrastructure and Environment Section for the Delegation of the European Union to Ukraine.
"For over a decade, Nefco has been partnering with municipalities across Ukraine to increase energy efficiency and modernise public buildings, street lighting and other municipal services such as district heating and water and wastewater treatment processes, improving the wellbeing of these communities. Seeing many of these supported cities and communities damaged by the missile strikes has been devastating," comments Iryna Fedorenko, Investment Adviser at Nefco.

According to estimations by the Ministry for Reintegration of the Temporarily Occupied Territories of Ukraine, the number of internally displaced persons in the country now exceeds 8 million, with 4.5 million more fleeing over Ukrainian borders to neighbouring countries. Ongoing hostilities and regular Russian missile attacks have caused severe damage to housing and electricity, heating and water supplies and destroyed public infrastructure, such as schools and healthcare facilities, posing serious humanitarian challenges. "As millions of people are without shelter and protection, the EU and Nefco agreed to cooperate to quickly facilitate renovation work and the construction of new housing," Fedorenko continues.
The action is being implemented in small and medium-sized municipalities in western and central Ukraine. Existing municipal buildings are currently being renovated and refurbished in ten cities: Chernivtsi, Chortkiv, Ivano-Frankivsk, Khmelnytskyi, Kivertsi, Kovel, Lutsk, Rivne, Zolochiv and Zviahel. The total EU contribution is EUR 19.4 million, with between EUR 1.5 million and EUR 2.5 million being allocated per project depending on the scope and needs of the communities. The grant investment includes support for technical design, construction work and materials, project management and monitoring.
"We are very pleased that through this action, with EU funding, we are able to give the suffering Ukrainian population urgent and much-needed support and help create satisfactory living conditions for IDPs in their new homes," says Julia Shevchuk, Chief Investment Adviser at Nefco.
Ongoing projects are directed at restoring, renovating and repurposing existing municipal buildings, such as dormitories, health care institutions, administration buildings, schools and day-care centres, that can be used to host IDPs. All projects have passed the procurement stage, and construction work is underway in most of the communities. The measures being implemented include internal repair works, thermal insulation of buildings, installation of equipment for heating, electricity and water supply, replacement of windows and doors and building of outdoor recreation areas.
Renovation work on the initial housing facilities is expected to be completed during the autumn, with all ten projects expected to be finished by the end of 2023. The aim is to achieve a 30% improvement in the energy efficiency of the renovated buildings compared to their former state, while the new buildings shall be at least 10% more energy efficient than required by local legislation. Some 1,800 IDPs will benefit from receiving accommodation and access to basic municipal services.
This action is funded by the European Union and managed by Nefco. It is part of wider efforts to rebuild Ukraine greener and better by using green construction materials, applying energy- and resource-saving measures and reducing waste from construction and demolition. In addition to this action, Nefco is currently managing three more programmes, funded by the EU, dedicated to providing housing for IDPs and aiding the recovery of critical infrastructure that will strengthen the resilience and capacity of Ukrainian communities to accommodate newcomers from the regions most affected by the war.
For further information, please contact:
Julia Shevchuk, Chief Investment Adviser, Nefco
+380 50 358 3518, Yuliia.Shevchuk@nefco.int
Iryna Fedorenko, Investment Adviser, Nefco
+380 96 270 9622, iryna.fedorenko@nefco.int
About the Neighbourhood Investment Platform (NIP)
The Neighbourhood Investment Platform (NIP) is a mechanism aimed at mobilising additional funding to finance capital-intensive infrastructure projects in EU partner countries covered by the European Neighbourhood Policy (ENP) in sectors such as transport, energy, environment and social development. The NIP also supports the private sector, mainly through investment grants and risk capital operations targeting small and medium-sized enterprises. The NIP strives to pool grant resources from the EU budget and EU Member States and use them to leverage loans from European Financial Institutions as well as contributions from the ENP partner countries themselves. In this way, the EU backs its neighbours' priorities and supports them in carrying out key investments and boosting economic development.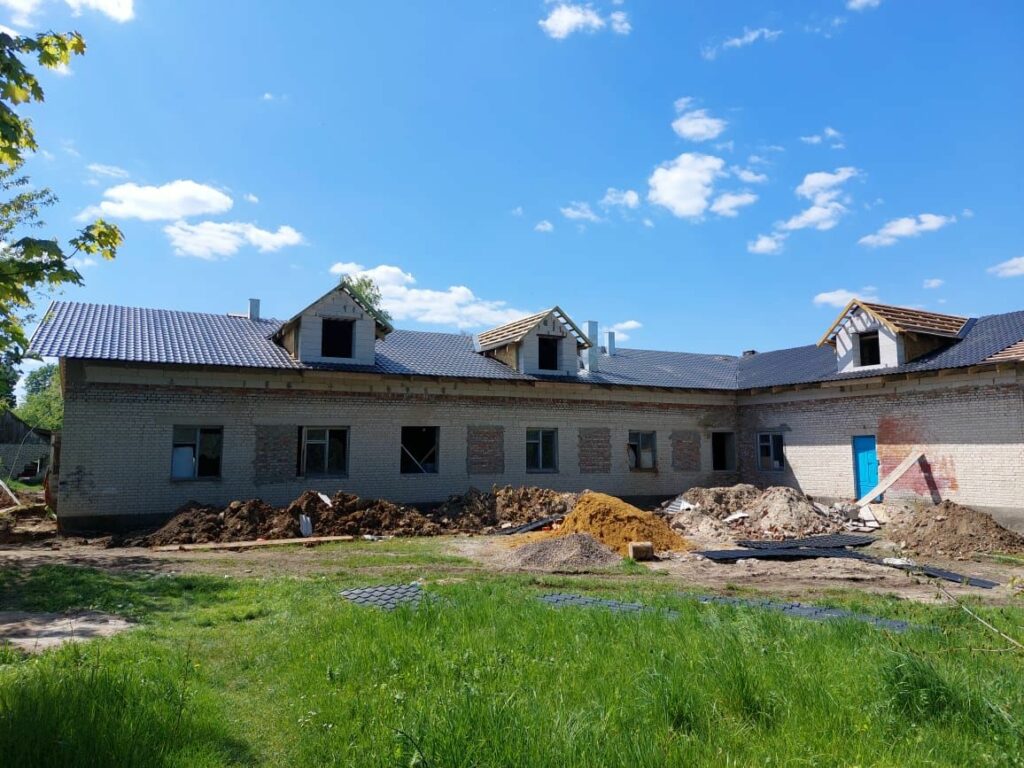 Photo: Building in Kivertsi under renovation – Garde Consulting for Nefco
---