19.01.2023 | News
Financing from Nefco will accelerate the company's rollout of its technology for transforming industrial side streams into valuable products and ramp up its production site in Finland for further growth in global markets.
The Finnish cleantech company Tracegrow has received financing from Nefco, the Nordic Green Bank. Tracegrow's innovative technology offers a sustainable solution for recycling valuable materials back into circulation for various industries.
Its patented process is the first of its kind for extracting and purifying zinc and manganese from recyclable alkaline batteries and industrial side streams. Tracegrow's recycled materials offers very low-emission solution for agriculture and other industries that prevents the need for energy-intensive mining operations of virgin raw materials.
Nefco's fast-track loan for accelerating companies' growth will help Tracegrow implement its new growth strategy and allow it to hire additional personnel to strengthen its global reach.
"Tracegrow's products are proven to reduce carbon emissions and enhance crop productivity compared to traditional methods. Our certified organic fertilisers are already available in 15 markets, and our technology development and market expansion will now be accelerated with a loan from Nefco," says Kimmo Hyvärinen, CEO, Tracegrow.
Resource-efficient products with low environmental impact
The world's soil is deficient in zinc and manganese by 50% and 10% respectively. These deficiencies affect plant health and decrease crop yields. Tracegrow's organically approved fertilisers are rich in these micronutrients and can be used to improve plant health and yield within the agricultural industry.
"Reuse of non-renewable natural resources is important for our environment. Tracegrow's technology enables true circular economy products and reduces reliance on the mining industry." says Hyvärinen.
Tracegrow's manufacturing process reduces emissions as neither heating nor wastewater is required as they are produced in a closed system.
"Tracegrow's technology increases material recycling rates and advances circular economy. This is a great solution that reduces the need for new mining operations and reduces CO2 emissions. We are excited to be part of Tracegrow's growth journey by providing financing for the company," said Meeri Kaurissaari, Investment Officer at Nefco.
For further information, please contact:
Mikael Reims, Vice President, Origination, Nefco
mikael.reims@nefco.int, +358 10 6180 670
Eugene du Toit, Marketing and Communications Manager, Tracegrow
eugene.du.toit@tracegrow.com, +358 44 240 8396
Kimmo Hyvärinen, CEO, Tracegrow
kimmo.hyvarinen@tracegrow.com
About Tracegrow
Tracegrow Oy is a Finnish cleantech company founded in 2012 that offers technology solutions for a circular economy in agriculture and other industries. Tracegrow's technology converts industrial side streams and recycled batteries into valuable products. The regenerated materials represent a low-emission solution for industry without the need for energy-intense mining operations or a large environmental footprint. Tracegrow's first production plant in Finland has the capacity to process up to 5 million litres annually. In the agricultural industry, Tracegrow has produced different sulphate-based zinc and manganese products. Read more: tracegrow.com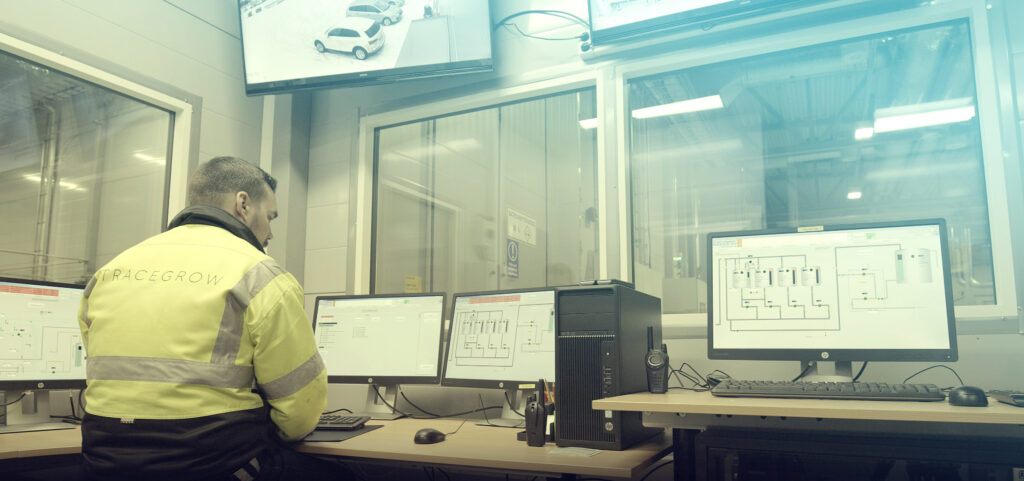 Tracegrow's technology converts industrial side streams and recycled batteries into valuable products. Photo credits: Tracegrow
---