25.10.2021 | News
Nefco finances Engbakken to speed up the internationalisation of a soil treatment solution that uses less fuel and fertilizer. Engbakken, together with twelve Danish municipalities, has been working to develop a machine that reduces service times and improves soil quality and biodiversity for sports turf and park treatments.
The Danish family enterprise Engbakken has taken care of sports grass and provided winter services since 1953. Now in its fourth generation, Engbakken Invest ApS continues to evolve its services and produce and sell equipment for the treatment of green areas, such as parks and sports turf, as well as providing turf treatment services, especially for the municipal sector.
A couple of years ago, Engbakken, together with several Danish municipalities, developed Re-dresser, a single turf-treatment machine that combines the functions of six. "It combines all the professional services used to maintain the highest level of 'natural grass care' in one machine," says Michael Krogh Albæk, Engbakken's CEO.
The machine directs and coordinates processes autonomously using live data and GPS, simplifying conventional methods that require different treatments one to four times per year and reducing their environmental impact.
Reducing the use of fertilizers and CO2 emissions
"Engbakken's goal is to innovate machinery for our industry and provide improved quality with a focus on environmentally friendly and energy-efficient end products," adds Krogh Albæk.
Up to 25% less fertiliser is needed as the number of treatments is reduced. The simplification of treatments also results in carbon emission reductions. This is expected to provide an estimated maximum annual reduction of almost one tonne of CO2 per hectare, as it will require less driving and therefore reduce fuel consumption. The redesign of the machinery contributes to improvements in soil quality and effective aeration, carbon sequestration and biodiversity.
Sustainable soil treatment machines for European municipalities
Municipalities play a key role in implementing climate change adaptation measures. Engbakken's products and services can help local authorities reduce their environmental impact and save time. Several Danish municipalities are already using and testing Re-dresser, and as interest from other European countries in the company's sustainable soil treatment products grows, more demonstration equipment is needed.
"With a successful entry into the German market, Engbakken will be in a strong position for further international expansion in the coming 5 years; the much larger US market could be the next big step," says Søren Berg Rasmussen, Nefco's Investment Manager.
Nefco's Green Recovery Loan Programme will allow the Danish company to construct more demonstration equipment. The aim is to access new markets, which will accelerate the green transition in turf treatment services in other European municipalities.
Learn more about Green Recovery financing – download fact sheet
For further information, please contact:
Søren Berg Rasmussen, Investment Manager, Nefco
soren.rasmussen@nefco.int, (+358) 050 324 2550
About Engbakken ApS
Since 1953, Engbakken ApS has taken care of sports grass and provided winter services. Its products and services range from managing sports grass with the right machinery, snow removal and mowing natural grass to protect nature from invasive species. Engbakken's goal is to make its services more environmentally friendly and energy efficient. Years of experience in combination with new technologies have facilitated the company's development, allowing it to adapt to the market needs of today: simplicity, efficiency and improved quality.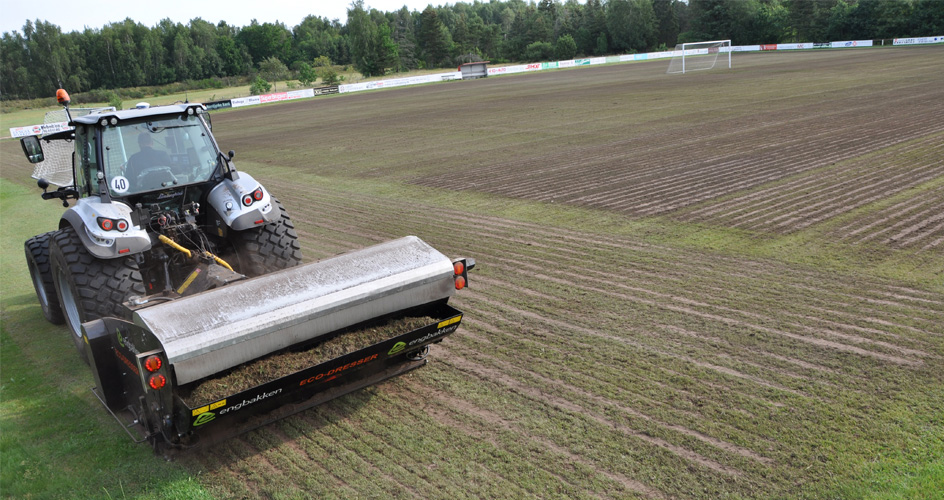 Photo: Engbakken
---