MCFA website is launched
Follow the MCFA programme development on its own website www.moderncooking.africa.
Visit our new MCFA website
Private cooking service companies interested in expanding their business of offering affordable, high quality and energy-efficient clean cooking services in the listed project countries of the Modern Cooking Facility for Africa programme (MCFA) can apply for funding.
Beneath you find more information on supported entities and technologies as well as the timeline for ongoing Call for Proposals. For a detailed description, please see the Pre-Qualification Guidelines (also available in French)
Timeline for the Modern Cooking Facility for Africa Call for Proposals 2022
The first Call for Proposals closed on 21 June 2022 and applicants passing the Pre-Qualification stage will be invited to the Final Application stage in Autumn 2022.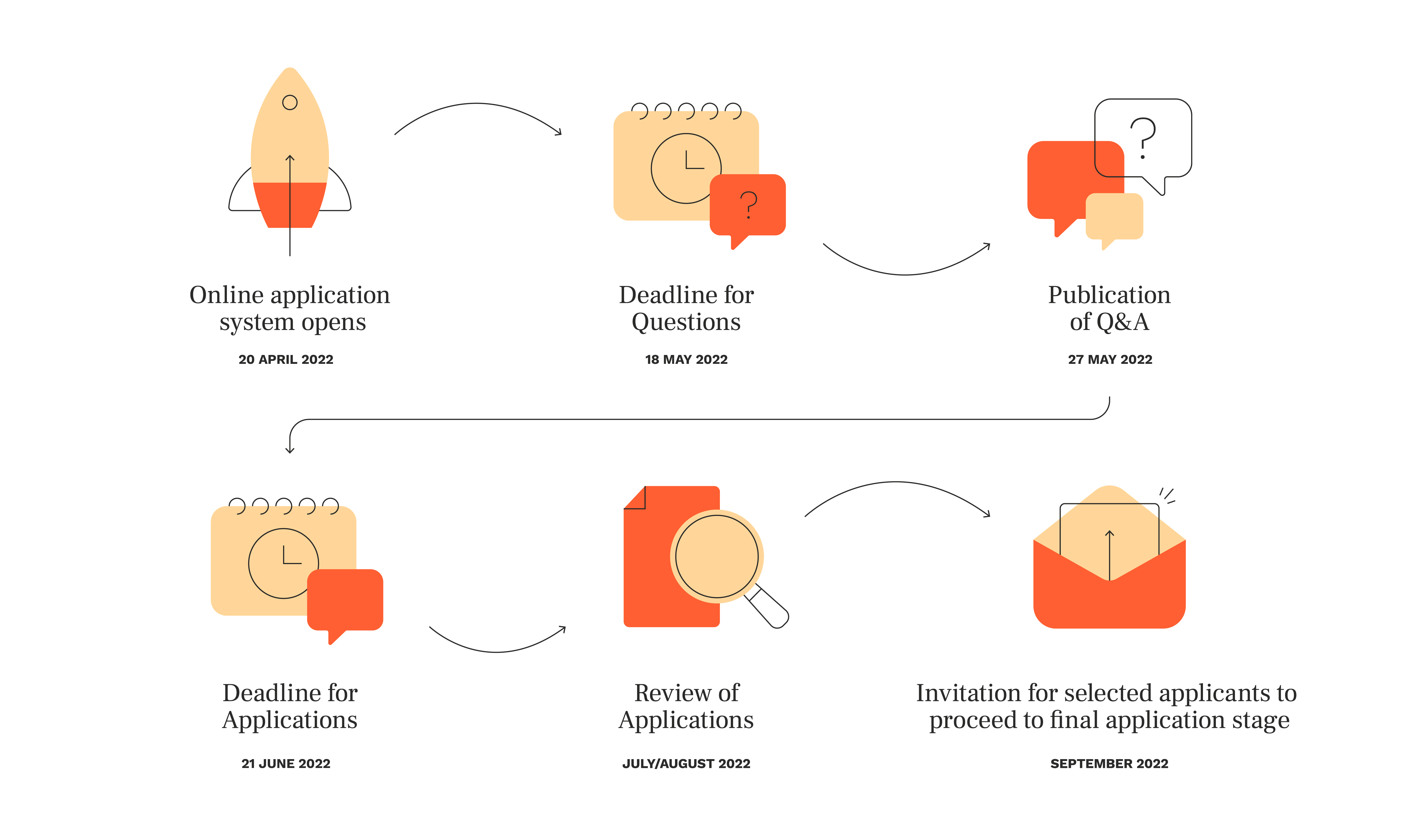 Eligible applicants
The Modern Cooking Facility for Africa programme is targeted at incentivising privately owned cooking service companies to accelerate access to modern, higher tier cooking solutions. Individual Cooking Service Providers (companies) and Project Consortiums can apply for funding.
Applicants should be legally incorporated and included in the register of for-profit companies in a MCFA project country or commit to being incorporated and registered as such before signing a possible contract. Applicants should further be in compliance with all tax, regulatory and legal frameworks in both their home country and the project country (if different).
Applicants are allowed to include non-profit entities, public institutions, community-based organisations or other non-commercial entities to take part in the project implementation as Project Partners or Consortium Members.
Eligible project countries
The first funding round will support projects in six Sub-Saharan African countries; the Democratic Republic of the Congo, Kenya, Mozambique, Tanzania, Zambia and Zimbabwe.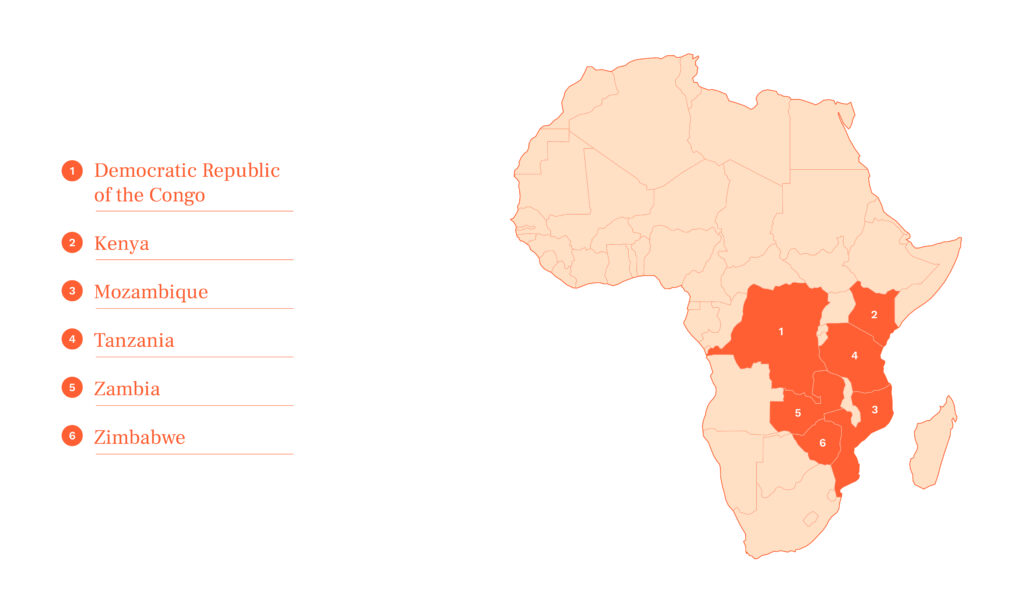 Eligible project types and technologies
The first Modern Cooking Facility for Africa funding round (MCFA1) can support Cooking Service Providers' sales of electric, solar thermal, biogas and bioethanol stoves that meet Tier 4-5 performance standards and briquette and/or pellet stoves that meet Tier 3 and above performance standards. An Applicant is required to indicate relevant supply of fuels that meets the MCFA1 requirements for eligible supply of clean cooking services. MCFA1 can further support an integrated 'tool and fuel' business model.
Please note that stoves using liquefied petroleum gas (LPG) are excluded from the MCFA1 funding round.
The MCFA1 will incentivise, in particular, projects deploying pay-as-you-go business models and clean cooking technologies using stove-use monitoring.
The primary aim of the first funding round is to incentivise Cooking Service Providers to target their sales of modern, high-technology cooking solutions to residential customers living in urban and peri-urban areas in the project countries. Funded projects can also support sales of energy-efficient stoves for commercial use as well as institutional stoves to serve critical needs related to education, such as school meals, food security, medical equipment sterilisation and clean drinking water.
Funding opportunities
Financing can be disbursed flexibly, including up to 30% up front as a non-reimbursable catalytic grant component and the rest as results-based finance. Up-front payments can be made for Cooking Service Providers to:
establish their business in a new market
roll out and scale themselves as a company already active in one of the project countries
launch a new Tier 4-5 or Tier 3+ product
implement a PAYGO business model
Disbursements of results-based financing are made in return for Cooking Service Providers implementing their proposed project and selling and sustaining the offered number of Clean Cooking Services to end-customers. Results-based finance payments will be made in arrears and against Cooking Service Providers' proven sales and the establishment of an agreed minimum number of Clean Cooking Services defined as milestones in a possible contract.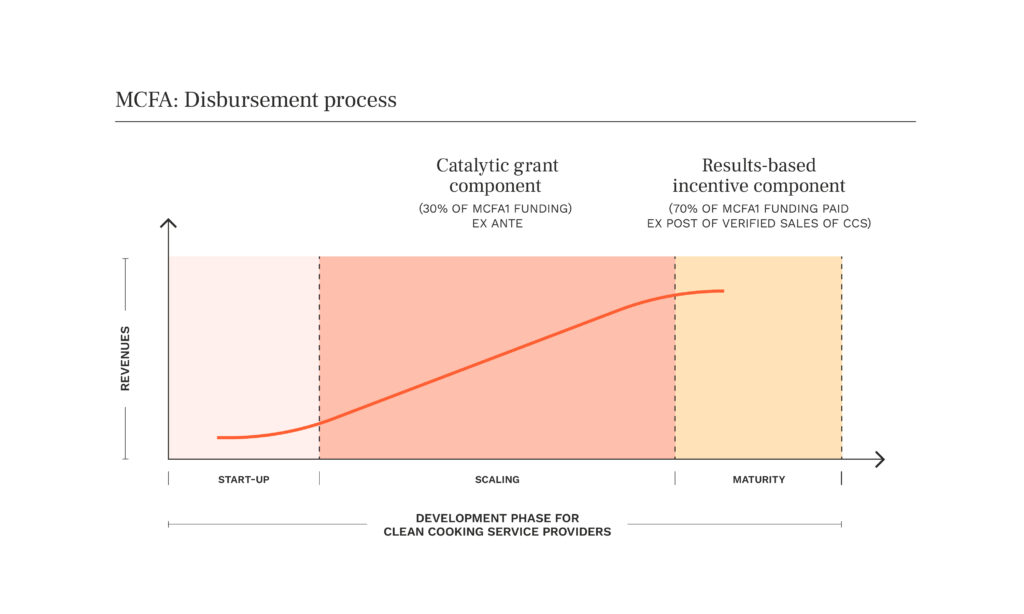 The Modern Cooking Facility for Africa programme will also offer technical assistance to successful Cooking Service Providers, including advice on, for example, product and business model development, monitoring, basic business fundamentals and formalisation, strategy and human resource management. Technical assistance can also be provided for Cooking Service Providers to access carbon finance. More information about this is available in the Pre-Qualification guidelines.
Apply for funding by registering for the online application system
The application system will open on 20 April 2022 at 16:00 Helsinki time (UTC +3) and close on 21 June 2022 at 12:00 Helsinki time (UTC +3).
Questions and Answers
For questions related to the online application tool and how to submit an application, please visit the application intake system's support section for guidance. It can be accessed from the main portal once you are registered and logged in. Please only post questions related to the ongoing Call for Proposals via the application intake system's support section, as specified in the Pre-Qualification Guidelines.
Applicants are requested to send any questions regarding the Call for Proposals and application process through the application intake system at the latest by 18 May 2021 at 12:00 Helsinki time (UTC +3). Questions and answers has been made available to all registered Applicants in an anonymised and redacted form. Kindly log in to the application system to see the questions and answers document.
Download the Invitation Letter and Pre-Qualification Guidelines for more information on the application process and eligibility criteria.

Contacts

Ash Sharma
Vice President, Green Transition Special Funds

Heli Sinkko
Programme Manager