15.12.2022 | News
The European Union (EU) provides EUR 50 million for the repair and reconstruction of damaged critical infrastructure in Ukraine.
Grants will be used for investments and measures related to heating, water supply and wastewater discharge.
The contribution is part of Nefco's green recovery activities in Ukraine.
Russia's full-scale invasion of Ukraine is causing severe damage to municipal infrastructure related to water supply, wastewater management, heating, electricity, housing, schools and health facilities. In response to the war, the European Union (EU) has mobilised billions of euros to support Ukraine's overall economic, social and financial resilience in the form of macro-financial assistance, budgetary support, emergency assistance, crisis response and humanitarian aid.
As part of this, the EU has reached an agreement with Nefco, the Nordic Green Bank owned by the five Nordic countries, to allocate funds worth EUR 50 million for critical municipal infrastructure as part of Nefco's green recovery activities in Ukraine. The funds will be used for the repair and reconstruction of damaged critical infrastructure in liberated cities in the Kyiv region.
To increase the resilience of critical infrastructure and communities, the funds will be used for basic municipal services for heating, water and electricity supply, wastewater discharge and waste management. The activities aim to improve living conditions for people in Ukraine who are returning to their homes and internally displaced persons (IDPs) from occupied areas seeking shelter in other communities.
During the last decade, Nefco has partnered with over a hundred Ukrainian municipalities and successfully financed and implemented environmentally sound projects in energy efficiency, district heating and other municipal services.
"The EU continues to provide emergency support to Ukraine in response to Russia's strikes against its critical civilian infrastructure which constitute a war crime. We are looking forward to tapping into Nefco's broad experience with municipal projects. Factoring in green recovery from the outset will support Ukraine's overall rebuilding as well as European integration," said Ambassador Matti Maasikas, Head of the Delegation of the European Union to Ukraine.
The activities supported by the EU are in line with the Green Recovery for Ukraine programme that Nefco launched in July 2022. The objective of the programme is to undertake rebuilding work in an environmentally sound way, incorporating modern European standards, increasing energy sustainability and strengthening energy security, and to further catalyse green reconstruction and accelerate sustainable societal development in Ukraine.
Nefco strongly condemns the brutal, illegal and unprovoked Russian invasion of Ukraine that continues to cause suffering beyond belief. Nefco commits to work towards a green recovery in Ukraine together with the EU and Nordic contributors and institutions to ensure that Ukraine is built back greener and better. It will work directly with municipalities and help them to plan and finance a sustainable long-term recovery from the damage caused by Russia's war on Ukraine. Project preparations, and in some cases implementation, have already begun, and further extensive implementation of projects is expected in early 2023.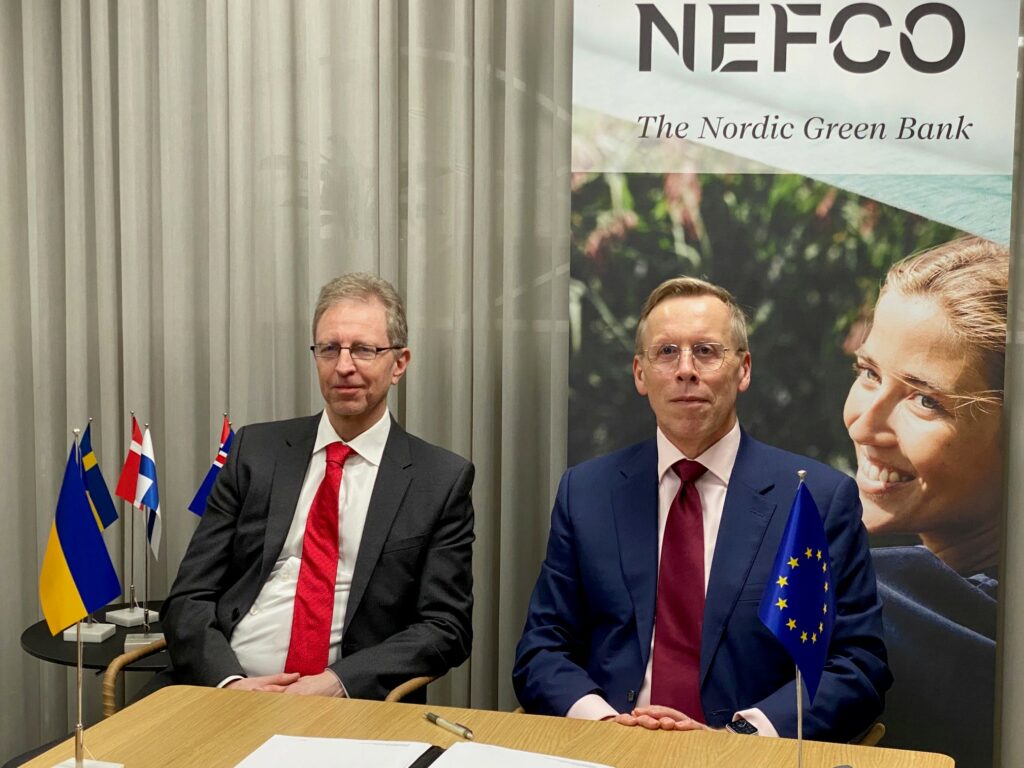 For further information
For more information on the Nefco Green Recovery Programme for Ukraine, please see
www.greenrecoveryukraine.org or contact:
Ulf Bojö, Vice President Green Transition in Eastern Europe, Nefco
ulf.bojo@nefco.int, +358 40 527 3699
Josefin Hoviniemi, VP Communications, Nefco
josefin.hoviniemi@nefco.int, +358 50 4646995
---