21.09.2023 | News
The Beyond the Grid Fund for Africa (BGFA) has signed its first agreement with an energy service company in the Democratic Republic of the Congo (DRC) to accelerate access to clean energy in remote areas of the country.
An agreement has been signed with Alternative Energy Technologies Group (Altech), a Congolese-founded and managed company established in 2013, to support the expansion and scale-up of clean off-grid solar lighting solutions, e-motorcycle rentals and charging stations. The results-based financing to be provided by BGFA aims to leverage some EUR 20 million in other financing. The planned project is expected to provide more than 300,000 people with access to electricity, while helping the company to reach its overall goal of distributing over 1 million clean energy products by the end of 2025.
Altech was started by two innovative entrepreneurs. The co-founders and co-CEOs Washikala Malango and Iongwa Mashangao both grew up in a refugee camp in Tanzania during the late 1990s, after fleeing the Congolese civil war, where an employee at UNHCR spotted their talent and helped them earn scholarships to the University of Dar es Salaam. During this time, to help support themselves financially, they started buying small numbers of solar lanterns in Tanzania and importing them to the Democratic Republic of the Congo to sell. They made a number of similar journeys, increasing the number of solar lanterns they brought back each time. Today, the company is operating in 23 out of 26 provinces in DRC, selling solar home systems and lighting solutions mainly to households through their 4,000 engaged sales agents. The company currently has 6 offices and 150 full-time employees.
"Since our humble beginnings in our hometown of Baraka, Altech has come a long way; in ten years we have successfully established the largest PAYGo solar and e-mobility business in the Democratic Republic of the Congo. In DRC, opportunities for growth are abundant, but they come with challenges. I understand this first-hand, having grown up in a poor rural household where we often couldn't afford kerosene for lighting and later in a refugee camp dependent on off-grid energy solutions. These experiences drive our mission to improve daily life for people in DRC. Thanks to the support of BGFA, we can expand our geographical reach even further within DRC, ensuring our solutions are accessible to more remote, off-grid communities and enabling us to scale up our e-mobility business," says Iongwa Mashangao, Co-founder/CEO at Altech.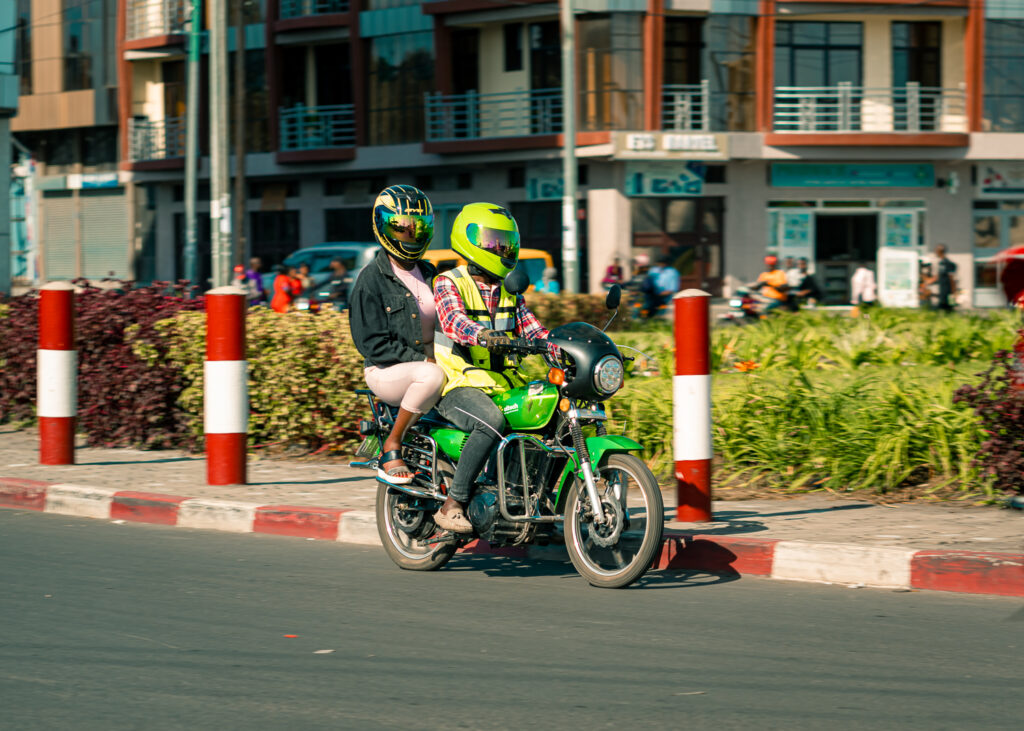 With the BGFA funding, Altech will further scale up its presence in the country, including in remote areas and the remaining provinces of the Democratic Republic of the Congo in which it is not currently operating, as well as increasing its fleet of rental e-motorcycles and expanding its network of charging stations for e-motorcycles. E-motorcycles are largely used as taxis in DRC and are available for rent to drivers for a cost of eight euros per day. The company's aim is to establish up to 60,000 new energy service subscriptions and provide 1,000 rental e-motorcycles by the middle of 2027. The scale-up of e-motorcycles will support the creation of 1,000 new job opportunities in the country. In addition to supplying affordable solar products, through their PAYGO model, and providing a rental service for e-motorcycles, Altech is planning to design and set up recycling infrastructure for off-grid solar products in DRC.
"We are really excited to announce our first investee in the Democratic Republic of the Congo, where some 90% of people lack access to electricity, and to begin our cooperation with Altech to support their growth in remote areas. This entrepreneurial and innovative company will make a significant contribution to scaling up affordable off-grid energy solutions and initiating the development of recycling infrastructure in the country," comments Dennis Hamro-Drotz, Senior Programme Manager at Nefco.
The Beyond the Grid Fund for Africa has so far contracted 22 companies in Burkina Faso, DRC, Liberia, Uganda and Zambia. Cumulatively, these have the potential to reach over 8.4 million people. The BGFA funding window in DRC is funded by Sweden and Norway. Further projects in the Democratic Republic of the Congo, Uganda and Zambia are expected to be announced during autumn 2023.
For further information, please contact:
Dennis Hamro-Drotz, Senior Programme Manager at Nefco
dennis.hamro-drotz@nefco.int, +358 10 6180 641
IIongwa Mashangao, Co-founder/CEO at Altech
Iongwa@altech-rdc.com, +243 818 512 413
About Altech
Altech Group is a tech-enabled clean energy, sustainable transportation and inclusive e-trade company. Altech's mission is to accelerate the march towards green, inclusive and prosperous economies in Africa, starting with DRC. It aims to achieve this by providing affordable, reliable and clean energy solutions such as solar kits, solar home systems, generators, water pumps and energy-efficient cookstoves for households, businesses, organisations and public institutions and by offering sustainable mobility solutions, namely electric motorcycles, for individuals, entrepreneurs, businesses and institutions. The investment will enable cost savings for households, traders and SMEs by connecting them directly with value-added resellers, original equipment manufacturers and original design manufacturers for essential goods.
Since Altech's establishment in 2013, the company has distributed over 450,000 clean energy products, 25,000 efficient cookstoves and 50 sustainable transportation products, impacting more than 3 million people in DRC. It aims to have 50,000 active e-motorcycles on the road by the end of 2028. Altech estimates that its efforts to date have saved customers over $60 million in electricity expenses, reduced CO2 emissions by 470,000 tonnes, preserved forests and generated over 4,000 green jobs.
About BGFA
The Beyond the Grid Fund for Africa (BGFA) is a multi-donor facility established and managed by Nefco – the Nordic Green Bank. Nefco is an international financial institution based in Helsinki, Finland, focusing on environmental and climate investments and fund management. BGFA is implemented by Nefco with the support of two project implementation partners. NIRAS is a development and engineering consultancy company headquartered in Denmark. The Renewable Energy and Energy Efficiency Partnership (REEEP), an international multilateral partnership based in Vienna, Austria, works to accelerate market-based deployment of renewable energy and energy-efficiency solutions in developing countries.
The current EUR 126 million BGFA programme was established in 2019 on Sweden's initiative through the Swedish International Development Cooperation Agency (Sida). It has since been developed by Nefco into a multi-donor programme funded by Denmark through the Ministry of Foreign Affairs, Germany through its development bank KfW, Norway through the Norwegian Agency for Development Cooperation Norad and Sweden. Power Africa, an initiative administered by USAID, is providing an in-kind technical assistance contribution.
Photo: A family in the Democratic Republic of the Congo receiving light in their home from a solar-powered lamp – Altech
---