24.02.2023 | Insight
Pasi Rinne works with Nefco to strengthen the environmental emphasis in a world marked by conflicts. In this article, he talks about Nefco's work in Ukraine.
Russia's full-scale invasion of Ukraine has caused a level of destruction in Europe not seen since World War II. The war is still ongoing, but already many international organisations such as UN agencies, Red Cross organisations, the EU and OECD are working with Ukrainians to recover and rebuild.
Pasi Rinne has extensive experience in sustainable finance, green growth, and international post-conflict and disaster management. This makes him a perfect partner to help Nefco work with recovery activities in Ukraine and advise Nefco on the green aspects of recovery in conflict zones.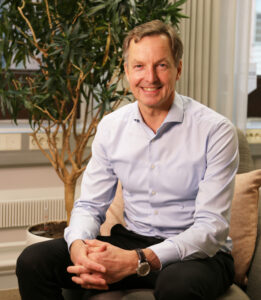 Pasi Rinne, Senior Strategic Advisor to Nefco
Immediate and long-term needs
"We have to consider two aspects of Ukraine's need: the immediate and the long-term," Rinne says. "First is the immediate assistance. There have been thousands of civilian casualties. More than 17 million are in need of humanitarian assistance and protection. Millions of people have lost their homes and about 6 million people are internally displaced. Destroyed critical energy and water infrastructure must be repaired and restored. Right now people need water, electricity, heat, housing and health services."
"The other aspect is Ukraine's mid- to long-term reconstruction and development. So much of their critical infrastructure has been destroyed so they need new power plants, water utilities, wastewater treatment, schools, hospitals and housing. In addition, reportedly almost 40 per cent of the arable land in Ukraine is not in use for cultivation. Life-supporting ecosystems such as wetlands, forests, freshwater resources and protected nature areas have been damaged and are no longer enabling the life-supporting livelihoods. Nefco has an important role to play in building back greener and better."
Environmental projects in Eastern Europe, including Ukraine, has been Nefco's core activity from the beginning of the institution's existence. Nefco has financed over 200 municipal projects in more than 100 Ukrainian municipalities related to energy efficiency in schools, daycare centres and hospitals, district heating and other municipal infrastructure. The onset of the war led to the Nefco Green Recovery Programme for Ukraine.
"Nefco is well placed to work with Ukraine in their recovery," Rinne continues. "Nefco has a unique experience of working in Ukraine. Given Nefco's existing network of partners and the support from many donors we have already been able to start real recovery work. My role is to use my experience in conflict and post-conflict areas to support Nefco's recovery programmes for Ukraine."
Ukraine's green recovery is critical for the Nordics
At first glance, sustainability might not come to mind when people think of humanitarian relief and post-war rebuilding. In contrast, Rinne stresses that they really should go hand-in-hand.
"We are not an emergency organisation but provide swift assistance with a long-term sustainability approach, highlighting environmental needs. Nefco's work can be described as building a bridge between humanitarian crisis management and longer-term sustainable development," he points out.
"Humanitarian operations shall not generate more hazardous waste or environmental pollution. Energy efficiency, waste management systems and renewable energy solutions make immediate housing projects more efficient. Harmful waste and debris must be collected and treated safely, while contaminated land areas and water resources must be assessed and cleaned before used for construction. Ukraine doesn't want to rebuild old, inefficient infrastructure. Building back greener create a more resilient economy and help achieve energy self-sufficiency."
The situation in Ukraine is important to the whole world, but particularly to Europe. Green recovery integrates Ukraine closer to Europe. We in the Nordics can and want to help with our knowledge and solutions. The war is not that far away.
"A peaceful, thriving, sustainable Ukraine is critical to everyone in the Nordic region," Rinne says.
Text: David J. Cord
---