02.09.2009 | Insight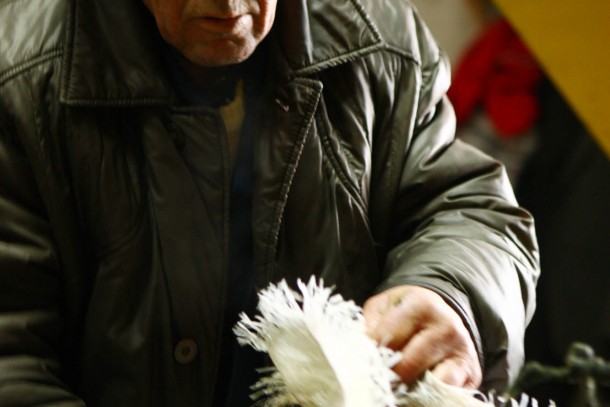 "Do you really use rapeseed to produce margarine in Scandinavia?" asks a surprised Victor Atamanyuk as we examine the golden harvest that keeps his company's fleet of machines running. Atamanyuk is CEO of Shevchenko Farmer Enterprise that employs around 130 people in Rivne, 2.5 hours' drive east of Lviv, Ukraine.
He takes pride in showing the presses that convert rapeseed into the oil that is subsequently used as bio-diesel fuel in the company's tractors, harvesters and other vehicles.
"Refuelling a vehicle with fossil diesel at a filling station costs 70 to 80 euro cents per litre. But the price of bio-diesel made from the rapeseed or sunflower that we grow in our own fields is only 27 to 30 cents per litre. We save up to EUR 30,000 per year by refuelling with renewable bio-diesel," says Victor Atamanyuk.
At the time of our visit, at the beginning of April, the frosty fields lie fallow but in two and half months' time the fertile fields will be bright yellow with flowering rapeseed. About 200 hectares of the company's arable land is used for growing rapeseed which yields an annual harvest of almost 450 tonnes. One tonne of rapeseed will give an average of 350 kg of oil, which results in an annual production of 150 tonnes of bio-diesel. Rapeseed satisfies 75 per cent of the company's fuel requirement, including the executive management's cars. Victor Atamanyuk's own car also runs on bio-diesel.
"When you step on the gas, you smell freshly baked doughnuts", he laughs as he drives away.
A tour of the farm shows that all the local resources are put to full use. Pressing of the dried rapeseed yields by-products such as stems and other biomass that can be pelletized and incinerated to produce heat. Part of the stems is also used as animal feed for cows.
The debate in Europe concerning the need to import palm oil from Indonesia and ethanol from South America appears rather strange in this context. And surely, the company's carbon footprint is reduced by the bold investment in local renewable fuels. The project is estimated to decrease carbon dioxide emissions by 3,600 to 5,000 tonnes.
The next step is to generate biogas from the cow and pig manure produced on the farm. With 2,000 cows and 3,000 swine, a steady supply of raw material is secured, at least for the foreseeable future.
"We expect to be able to satisfy the village's energy needs by producing gas from the manure", says Atamanyuk.
"The company's bold investments have aroused interest in the local media in the Ukraine. When the bio-diesel plant was inaugurated last spring, several politicians and journalists witnessed the occasion. NEFCO too attracted some media visibility as we were involved in financing the project", says Chief Liaison Officer Julia Shevchuk of NEFCO's office in Kiev.
---