13.05.2008 | Insight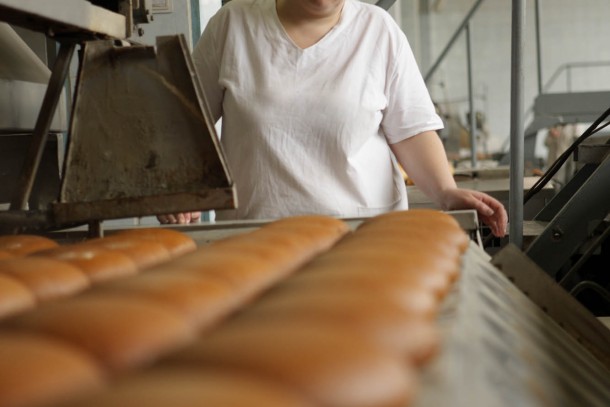 The enticing aroma of freshly baked bread greets us in the richly traditional Kyivkhlib No. 2 bakery contained within an 85-year-old building on Ulitsa Schekavitska in central Kiev. The tile-covered, patterned walls in the stairwell and the wall panel reliefs on the upper floor testify to long and proud traditions. The work is going well as we visit the bakery at the end of April to see how the project is progressing.
Last November, the bakery's project application was approved by NEFCO's investment committee. Once the loan was approved, it only took Kyivkhlib No. 2 a couple of months to tear out the bakery's old ovens and replace them with new, energy-efficient varieties with funds borrowed from NEFCO. Now production and the newly installed ovens are in fully operational. Tweaking of the new technical equipment for the production of dough is still only halfway done.
"Time is money," laughs chief engineer Sergey Viktorovich Rosada at Kyivkhlib No. 2. "The competition in the bakery business is fierce and the key is to strike when the iron is hot," he adds.
The bakery's repertoire includes everything from rye and wheat bread, to biscuits, cinnamon rolls and cakes. The Ukrainian bakery industry turns over roughly USD 1.1 billion per year. The Kyivkhlib parent company's share last year was USD 155 million. The subsidiary, No 2 in Kiev, which has renovated its oven with the help of NEFCO's financing, had a turnover last year of USD15 million.
"The new, low-energy ovens which are now operational mean that Kyivkhlib No 2 saves about 213,000 MWh of energy per year thanks to the investment. Recalculated in terms of carbon dioxide emissions, this entails a reduction of an entire 4318 tonnes per year," says Andriy Katashov, technical consultant in Kiev.
Last year, NEFCO financed a similar project in Kyivkhlib No 10, which belongs to the same conglomerate. The company accounts for about 25 percent of Kiev's bread production.
"Thanks to the investment, we have been able to reduce the cost of electricity in the bakery's total expenses from 15 to 5 percent," says Yuriy Mykolayovitch Duchenko, chief engineer at the bakery.
The project was financed with money from NEFCO's fund for cleaner production. Four similar projects in Ukraine were financed with funds borrowed from NEFCO.
"Ukraine is experiencing very strong economic growth at the moment with an increase in GNP of 7.3 percent. There are many small and medium-sized companies that are interested in making use of our services to modernise their production," confirms Maria Maliniemi, investment manager at NEFCO's office in Helsinki.
---