19.11.2014 | News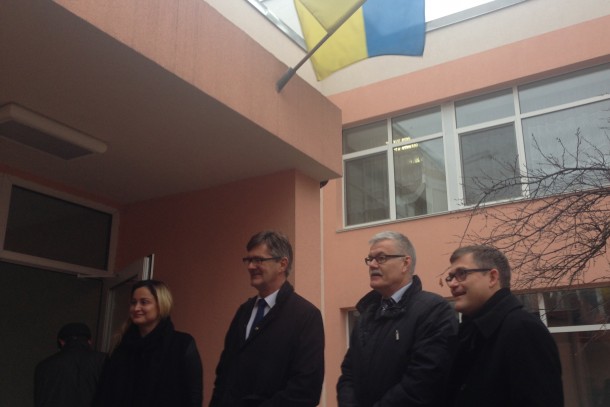 A Norwegian delegation led by Deputy minister for Trade and Industries, Dilek Ayhan, visited Pre-school 573 in Kiev, where energy efficiency measures have been implemented, in connection with the Norwegian-Ukrainian Business Forum (NUBF),
The pre-school is one of 96 secondary schools and elementary schools in Kiev where new stoves have been installed as part of an energy efficiency project with the city of Kiev, financed by a loan from NEFCO through the Energy Saving Credit facility.
Almost 200 electric stoves have been replaced to reduce the electricity consumption in these educational institutions. Reports show that one of the main consumers of electricity in the public sector is the heating equipment in the catering units. The replacements of these stoves will reduce the annual electricity consumption by approx. 1,200,400 kWh.
Additional energy saving measures at the pre-school 573 have been made through financing from United States Agency for International Development (USAID), the city of Kiev, the Eastern Europe Energy Efficiency and Environment Partnership – E5P and NEFCO. The facade has been insulated, the lighting has been replaced and new windows, doors as well as solar collectors have been installed. The total investment is UAH 4 million and will pay for itself through the savings made in water, heat and electricity.
"Due to implemented measures the energy savings are considerable", explains Anatoliy Kozlenko, Director at the Municipal Enterprise Project Implementation Unit in Kiev, when guiding the delegation at Pre-school 573.
NEFCO's frame work agreement was ratified by the Ukrainian parliament in 2010 and NEFCO has so far approved 23 projects to Ukrainian municipalities through its facility for Energy Saving Credits. Currently NEFCO has 35 ongoing municipal energy efficiency projects in the country.
On the initiative of Norway, the Nordic Ministers of Foreign Affairs decided on a new funding programme, Nordic energy efficiency and humanitarian support initiative, on October 29 in connection with the Nordic Council Session in Stockholm to provide further support to energy efficiency measures in Ukraine.
Read more about the new Nordic initiative in Ukraine
Learn more about the Energy Saving Credit facility
---