19.12.2017 | News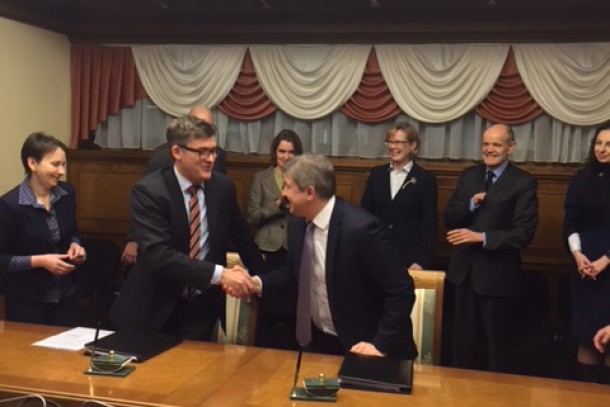 The Ministry of Finance of Ukraine and NEFCO have today signed a loan agreement for energy-efficiency investments in several higher education institutions in Ukraine. The total loan amount for the project is EUR 30 million.
The project concerns the refurbishment of existing teaching, research and supporting facilities at various state higher education institutions in several cities to improve their energy efficiency and reduce their greenhouse gas emissions. The aim is also to improve the teaching conditions at these chosen institutions.
"Improving energy efficiency is one of the main priorities of our Government. Cooperation with our international partners in this area is therefore strategically important to us. This project will provide an opportunity to apply advanced energy-saving technologies during the modernisation of higher education institutions and to increase students' comfort," says Minister of Finance Olexandr Danyliuk.
The initial phase of the project will involve seven universities in Chernihiv, Kharkiv, Kiev, Lviv, Poltava, Sumy and Vinnytsia. At a later stage, more institutions will be selected for the implementation of energy-efficiency improvements. The work is expected to start in 2018 and to be completed by the end of 2022, and the total costs for the investments are estimated at EUR 160 million.
"We are very pleased to have signed our first sovereign loan with Ukraine, a natural continuation of our long-term commitment to public energy-efficiency projects in the country," said NEFCO's Managing Director Magnus Rystedt in Kiev today.
Improvements will be made to the building envelopes, heating and ventilation systems, and lighting. The improvements are expected to extend the life cycle of the buildings by on average 30 years and to substantially reduce the energy consumption and CO2 emissions as well as help to save costs.
"Support for this kind of environmental projects, improving the energy and cost efficiency by renovating public buildings, is a priority for the Nordic countries and one of the main areas of NEFCO's operations," commented Helena Lähteenmäki, Senior Investment Manager at NEFCO.
NEFCO's loan to Ukraine is partially guaranteed by the Swedish International Development Cooperation Agency (Sida). The project will also receive a loan from the European Investment Bank, which is the lead financier. In addition to the loan financing, the project will receive grants from the Eastern Europe Energy Efficiency and Environment Partnership (E5P), the EU Neighbourhood Investment Facility and the Nordic Environmental Development Fund.
For further information please contact:
Helena Lähteenmäki
Senior Investment Manager at NEFCO
+358 10 6180 633
helena.lahteenmaki [at] nefco.fi
---