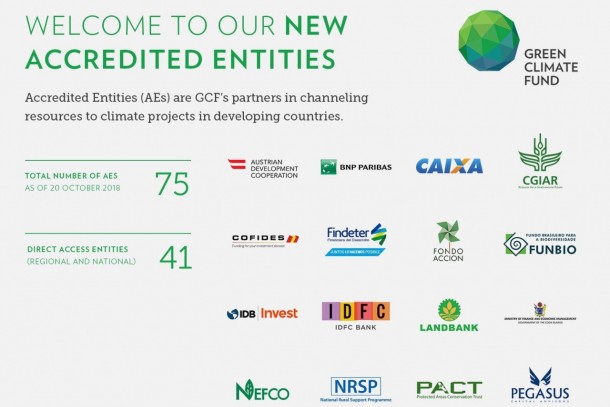 Today at its 21st Board meeting in Bahrain, the Green Climate Fund (GCF) decided to include the Nordic Environment Finance Corporation (NEFCO) as one of its accredited entities. GCF is a global fund created by the United Nations Framework Convention on Climate Change (UNFCCC) to support the efforts of developing countries to respond to the challenge of climate change. The accreditation offers new opportunities for NEFCO to blend its financing with GCF and other accredited entities' funds and further increase the capabilities of developing countries to grow in a sustainable way.
GCF seeks to use public investment to stimulate private finance, unlocking the power of climate-friendly investment for low-emission and climate-resilient development. To achieve maximum impact, GCF seeks to catalyse funds, multiplying the effect of its initial financing by opening markets to new investments.
The Nordic countries had the exact same vision when they established NEFCO in 1990 with the aim to increase awareness of environmental and climate issues outside the Nordic countries through the provision of cost-efficient financing of sustainable development investments in the surrounding regions.
Today, NEFCO's activities are global, but its financing operations are still focused on Eastern Europe and the implementation of small and medium-sized projects (SMPs) with demonstration value. Due to its focus on SMPs, NEFCO fills a gap, supplementing financing offered by the larger international financial institutions (IFIs). NEFCO also puts particular emphasis on offering hands-on environmental advice and building capacity to gradually enable its smaller clients to become better at mobilising additional finance also from other sources.
"We are very pleased to be the first Nordic institution to be accredited by GCF. Our particular strength lies in the fact that we are a 'project factory' and have a long track record in relatively fast implementation of innovative small and medium-sized private and public environmental projects," says Helle Lindegaard, Vice President, Trust Funds and Climate, at NEFCO.
"We have already identified some possible project leads for which we will seek support under the GCF Simplified Approval Process Pilot Scheme. We are very much looking forward to contributing to the paradigm shift objective of GCF by making use of our green growth track record and extensive network of trusted public and private partners to deliver effective, transformational and innovative climate-financing mechanisms with sustainable development impacts," Ms Lindegaard continues.
For further information, please contact:
Trond Moe, Managing Director, NEFCO
trond.moe [at] nefco.fi, tel: +358 10 618 0662
Helle Lindegaard, Vice President, Head of Trust Funds and Climate
Helle.lindegaard [at] nefco.fi, tel: +358 10 6180 664
About the Green Climate Fund
The Green Climate Fund (GCF) is a new global initiative established to respond to climate change by investing in low-emission and climate-resilient development. GCF was set up in 2010 by the 194 countries that are parties to the United Nations Framework Convention on Climate Change (UNFCCC), as part of the Convention's financial mechanism to limit or reduce greenhouse gas emissions in developing countries and to help vulnerable societies adapt to the unavoidable impacts of climate change. Given the urgency and seriousness of the challenge, GCF is mandated to make an ambitious contribution to the united global response to climate change. GCF works with public and private sectors to promote a paradigm shift to low-emission and climate-resilient development. Read more at www.greenclimate.fund.
About NEFCO
NEFCO is an international financial institution (IFI) established in 1990 by the five Nordic countries: Denmark, Finland, Iceland, Norway and Sweden with the specific purpose to promote environmental investments and sustainable development. Over the years, NEFCO has financed more than 700 small and medium-sized, private and public projects across different sectors in 60 countries, with a strong focus on Eastern Europe, the Baltic Sea, and the Arctic and Barents Regions. NEFCO has an extensive network within the green community and a proven ability to connect stakeholders and different financiers to relevant projects. As a result, NEFCO has managed to attract a considerable number of bilateral and multilateral fund management assignments. NEFCO's headquarters is located in Helsinki, Finland. It also has an office in Kiev, Ukraine, and is represented through long-term engaged consultants in St Petersburg, Russia.