21.06.2017 | News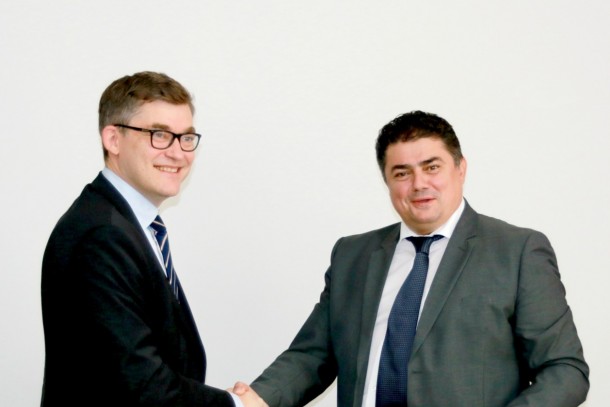 NEFCO and the Republic of Moldova have today signed a framework agreement that acknowledges NEFCO's status as an international financial institution in Moldova. The signing of the agreement, which took place in Chișinău, will pave the way for the financing of environmental projects in the country.
The signed framework agreement is aligned with the objectives of the Eastern Europe Energy Efficiency and Environment Partnership (E5P). NEFCO has co-financed a range of E5P-initiated projects in Ukraine in recent years.
In connection with signing the agreement, a workshop on the opportunities for energy efficiency and environmental projects in Moldova was arranged by NEFCO and the Moldovan Ministry of Economy. Also lessons learned from the E5P experience and the NEFCO's financing instruments were presented during the event.
"We are delighted about the possibility to expand our activities into Moldova and hope to be able to finance a range of energy efficiency projects in the public sector in the near future," said NEFCO's Managing Director Magnus Rystedt in Chișinău today.
"The launch of NEFCO's presence in Moldova will create a real opportunity for local authorities as well as municipal and state-owned enterprises to obtain funding for projects in the field of energy efficiency, renewable energy and environment, and those organisations that have proposed rationalization of their own energy consumption, will benefit from the financial products offered by the Corporation", said the Moldovan Deputy Prime Minister and Minister of Economy Octavian Calmic at the signing event.
The agreement between NEFCO and the Republic of Moldova will enter into force after ratification by the Moldovan Parliament.
Most of NEFCO's investment operations are today in Belarus, Estonia, Latvia, Lithuania, Russia and Ukraine. The Corporation is currently working with expanding its project portfolio to include new investment projects in Armenia, Georgia and Moldova.
Footnote:
The Eastern Europe Energy Efficiency and Environment Partnership (E5P) is a €180 million multi-donor fund managed by the EBRD and designed to promote energy efficiency investments in the public sector in Ukraine and other Eastern European countries. The fund was established under an initiative of the Swedish Government during its presidency of the European Union (EU) in 2009. E5P complements energy efficiency and environmental loans provided by financial institutions, including the European Bank for Reconstruction and Development, the European Investment Bank, KfW, NEFCO and the World Bank Group. Contributors to E5P are the EU and the US, as well as Denmark, Estonia, Finland, Germany, Iceland, Ireland, Latvia, Lithuania, Norway, Poland, Sweden and Ukraine.
---