11.11.2017 | News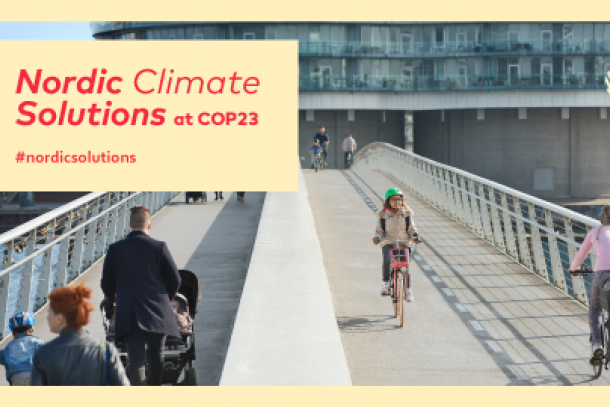 NEFCO's side event Mobilising green investments for smart solutions will be
on 14 November at 10.00-11.30 at the Nordic pavilion (Bonn Zone/ D.08).
The discussion will focus on how to accelerate green investments through smart climate solutions and it will be moderated by Janne Peljo from Sitra.
This side event will highlight innovative Nordic solutions related to energy efficiency, renewable energy and climate adaptation that are being implemented in both developed and emerging economies and among the panellists we have both representatives from the private and public sector.
Panel participants:
Shawn Brown, Vice President, Ignitia AB
Smart weather forecasting solutions
Sarunas Stepukonis, Partner, BaltCap Infrastructure Fund
Private equity investments in sustainable infrastructure
Karoliina Auvinen, Project Director, Aalto University
Smart energy transition
Tom Erichsen, CEO, Differ AS
Renewable energy solutions
Peter Keller-Larsen, Director, CLEAN
Accelerating the green and sustainable transition
Magnus Rystedt, Managing Director, NEFCO
Green financing
In the evening we will host an informal networking event together with the Nordic Investment Bank (NIB) and the Nordic Development Fund (NDF) at 17:30-19:00. The hosts for the evening will be Magnus Rystedt, Managing Director at NEFCO, Thomas Wrangdahl, First Vice-President, Head of Lending at NIB and Pasi Hellman, Managing Director at NDF.
---