24.01.2019 | News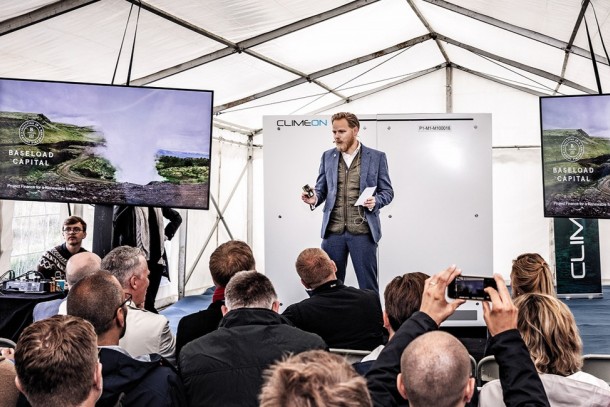 Baseload Capital Holding AB and the Nordic Environment Finance Corporation, NEFCO, have agreed on a financing programme to accelerate the building and deployment of Heat Power plants on a global scale.
Baseload uses Climeon's technology, which generates electricity from waste heat and geothermal heat at temperatures between 70 and 120 degrees. It is a cost-efficient form of renewable energy with substantial potential to reduce greenhouse gas emissions from electricity generation. The technology ensures a 24/7 supply of clean electricity, complementing electricity generation from other renewable sources such as solar and wind power.
Baseload Capital was founded in January 2018 as an investment entity for renewable energy projects by three Swedish venture capital companies and Climeon. The main aim of Baseload is to act as a catalyst for the dissemination of Heat Power.
Baseload Capital will use the EUR 3 million loan from NEFCO to accelerate the implementation of new Heat Power Plants based on Climeon's technology outside the Nordic countries. Each deployment will result in significant CO2 reductions as well as economic benefits, and contribute to scaling up Nordic green technology on global markets.
"This technology is a very exciting one with uncommon potential. It fits well with our strategy to support sustainable green growth and combat climate change globally. Many companies encounter a financing gap in the range of EUR 1 to 10 million. A gap that we try to fill with our financial instruments," explains Ulf Bojö, Senior Investment Manager at NEFCO.
Baseload Capital's CEO Alexander Helling is pleased with the funding agreement with NEFCO. "The funds will be used to develop Heat Power plants and speed up our deployment globally. It will also give us access to a valuable network, especially in Eastern Europe where the potential for Heat Power is big."
The pipeline of projects that Baseload is working on contains a considerable number of sites, not least in Asia, Eastern Europe and North America. Baseload, for Taiwan, and Climeon, for the US market, have both previously received financial support from the Nordic Project Fund, Nopef, administered by NEFCO for early stage market exploration.
For further information, please contact:
Ulf Bojö, Senior Investment Manager, NEFCO
Email: ulf.bojo [at] nefco.fi, Phone: +358 10 618 637
Alexander Helling, CEO, Baseload Capital
Email: alexander.helling [at] baseloadcap.com, Phone: +46 73 772 40 20
About Baseload Capital
Baseload Capital was created in 2018 to provide financing for the Climeon technology, which generates renewable baseload electricity on a global market. The company also offloads financing from the technology provider and aims to increase the speed of project implementation and technology dissemination with the goal to make a substantial difference in the race against climate change. The owners of Baseload Capital are the family-owned businesses LMK, Blue and Gullspång, and the equipment producer Climeon. Read more at baseloadcap.com
---