08.02.2021 | News | Uncategorized
Nefco and the Norwegian aquaculture company Sterner have agreed on a loan under Nefco's new Green Recovery programme. The aim is to support Sterner's expansion to new markets and the global shift towards sustainable seafood production.
Sterner is currently working towards internationalisation of its Recirculating Aquaculture Systems (RAS) solution for land-based fish farming. One of the advantages of RAS relates to the efficient use of water resources – 98 per cent of all input water is recirculated during the grow out of the fish. Sterner's system therefore minimises the risk of water pollution and pressure on the marine ecosystem. Additionally, it provides more efficient feed utilisation and lower fish mortality rates.
RAS is a particularly relevant technology for harsh environments, and Sterner has developed key relationships across the Middle East, where dwindling wild catch and governmental interest in food security programmes further support the implementation of RAS solutions. Sterner has already supplied similar technologies to 19 facilities in Norway. The expansion project to new markets will provide a basis for both replication and future international turnkey RAS deliveries.
Although the demand for sustainable seafood production is on the rise, the pandemic has temporarily delayed investments in many countries.
"We see a lot of growth opportunities in markets such as the UAE and Egypt. Nefco's financing enables us to continue developing these opportunities despite the pandemic-related disruption," says Bjarne E Pettersen, CEO at Sterner.
Nefco launched its green recovery financing in November 2020. The purpose of the new loan programme is to help Nordic green businesses go ahead with their plans to scale up on global markets despite the challenging market situation. The programme has already raised great interest, and Sterner's project is the first one to take off.
For further information, please contact:
Mikael Reims, Vice President Origination, Nefco
+358 10 6180 670, mikael.reims@nefco.fi
Kim David Lid, Director, Sterner
+47 47 87 92 22, kdl@sterneras.no
About Sterner
The Sterner Group is one of Norway's leading aquaculture companies providing recirculating aquaculture systems to leading global operators, including most Norwegian fish farms as well as foreign clients. During its 25 years in the sector, Sterner has transformed the industry in terms of water treatment and increased biomass per m3 of water. Sterner provides its clients with tailor-made systems and processes in order to provide the most cost-effective solution, and it has developed proprietary products that deliver significant operating benefits, including the core processes of gas injection and gas aeration. R&D and documentation of technical solutions are conducted at a Sterner-owned plant in Norway.
Photo: Sterner AS – Sterner is actively working to expand in Middle East, where dwindling wild catch and governmental interest in food security programmes further support the implementation of RAS solutions. In the picture below Bjarne Pettersen (of Sterner AS) signing an MOU with Hossam Ghareb (of Suez Canal Authority) at Ismailia in Egypt on 28 October 2020.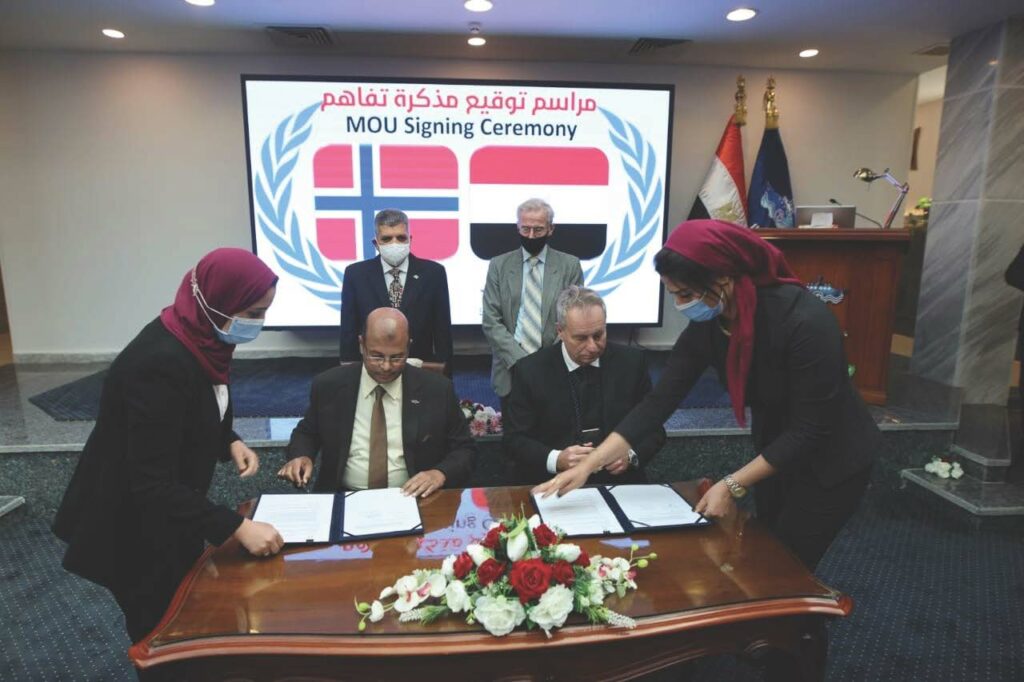 ---