31.03.2021 | News
The National Bank of Ukraine has approved the acquisition of 13.94% of newly issued shares in Bank Lviv by the Nordic Environment Finance Corporation (Nefco). The aim of Nefco becoming a direct shareholder of the bank is to support the green transformation in Western Ukraine.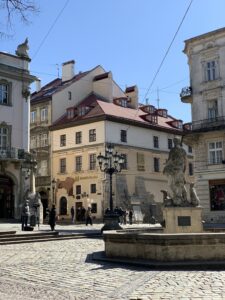 Bank Lviv is one of Nefco's oldest partners in Ukraine. Nefco was Bank Lviv's first international partner, having providing financing to the bank for over 10 years. Thanks to this successful partnership, Bank Lviv was one of the first banks to offer eco loans in Western Ukraine and, to date, has implemented many green financing projects for both business and retail clients.
Together, Nefco and Bank Lviv have co-financed a loan programme targeting residential energy-efficiency measures in Western Ukraine. Thousands of households have benefitted from the energy-efficiency programme, which still continues to this day.
"Our objective is to generate a positive impact on the climate and environment, and with this investment we aim for a strategic role in helping the bank pursue its sustainability strategy and setting new banking standards in the region. This is a much broader objective than green finance alone. For the first time, Nefco is investing directly in a financial institution, and we are looking forward to continuing our very good cooperation with Bank Lviv's shareholders, management and staff to create a leading bank in sustainable financing in Western Ukraine," says Thor Thorsteinsson, Vice President for Green Transition Nordic SMEs in Nefco.
Bank Lviv combines traditions with modern technology to create a new culture of personalised banking in Ukraine. The bank's shareholders are 100% international, reputable investors that implement a visionary strategy. The onboarding of Nefco adds 'the missing' environmental and sustainability element to the bank's positioning.
"We believe that with Nefco becoming a new shareholder our bank will benefit from access to valuable expertise in sustainable banking and that this is direct proof of our serious approach to everything we are doing. Our mission is to create opportunities, provide support and share experiences with those who strive for something better, as we believe that those are the exact people who actually do change the world. This is our direct contribution to positive impact in all areas – ecological, sustainability and social," says Ashot Abrahamyan, Chairperson of Bank Lviv Management Board.
More information
Thor Thorsteinsson, Vice President Nordic SMEs, Nefco
Tel +358 10 6180 657, thor.thorsteinsson@nefco.int
Ashot Abrahamyan, Chairperson of Bank Lviv Management Board
Tel +380 32 259 60 25, abrahamyan@banklviv.com
About Bank Lviv
Bank Lviv is a 'European' bank that has provided reliable banking services to businesses and private individuals in Western Ukraine since 1990. Its vision is to be the number one bank in Western Ukraine for those who want to develop and improve the local business environment. The bank is building a new banking culture on a foundation of transparent relationships and common objectives. Bank Lviv's mission is to create opportunities, provide support and share experiences with those who strive for something better. As of December 2020, Bank Lviv's assets amounted to USD 176 million, its total loan portfolio to USD 107 million and its deposits to USD 98 million.
---