08.09.2016 | News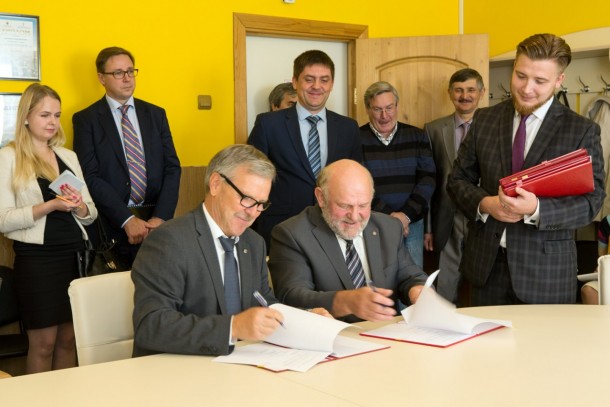 The second phase of a comprehensive wastewater treatment investment programme in Gatchina, Russia took a major leap forward today when a grant agreement worth EUR 500,000 was signed between the local waterworks Gatchina Vodokanal and the Northern Dimension Environmental Partnership (NDEP). The grant is intended to facilitate investments related to modernisation of the plant's biological treatment lines and the improvement of phosphorus and nitrogen removal.
"Considering the local commitment and all the investments and improvements which have been carried out so far, I think it is fair to say that Gatchina is a symbol of success that will serve as a good example for other cities in the region," said Jaakko Henttonen, Adviser to the EBRD.
Apart from the NDEP, the project is supported by NEFCO, the Swedish International Development Cooperation Agency (Sida), the John Nurminen Foundation, the Leningrad Region, the District of Gatchina and Gatchina Vodokanal itself.
Gatchina is located about 40 kilometres south of St Petersburg in Russia and has some 100,000 inhabitants. Gatchina belongs to the Baltic Sea catchment area, which means that the city discharges wastewater into the Gulf of Finland, contributing to the eutrophication of the Baltic Sea.
"Thanks to this investment, the city will be able to reduce discharges of phosphorus by over 25 tonnes and nitrogen by 42 tonnes a year. When all the project measures have been implemented, we will be able to meet the recommendations set by the Baltic Marine Environment Commission, HELCOM," said Yuri Tsypkaikin, Director of Gatchina Vodokanal.
Gatchina Vodokanal has previously upgraded its main water pumping station and the sludge pumping station, and supplied new blowers at an overall cost of EUR 5.2 million.
"We are delighted about today's grant agreement and Gatchina's commitment towards improving the ecological state of the Gulf of Finland," said Vitaly Artyushchenko, NEFCO's Chief Investment Adviser.
---