13.09.2016 | News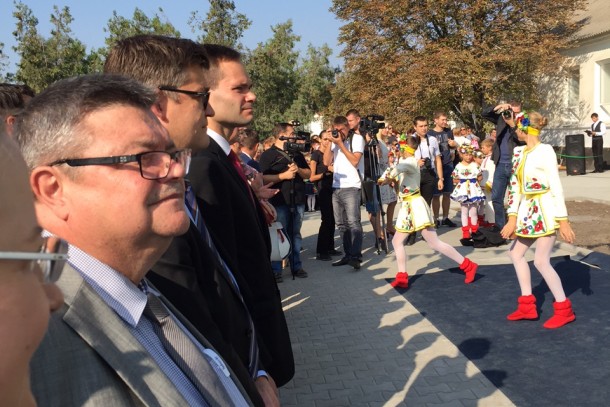 A newly-built green school was inaugurated today in the suburb of Antonivka in Kherson, Ukraine. The school, which relies on energy efficient design, thermal insulation and solar collectors, was built with the support of an earmarked financial contribution from the Finnish Government. The City of Kherson has in turn covered all costs related to ground works, as well as the expansion of the water and sewage systems.
"Finland has supported Ukraine during the crisis of 2014-2016, with over EUR 24 million. This school is our single largest project. Access to education is always important, but it is even more crucial during conflicts, when children's lives must have at least some continuity and normality. I am happy that Finnish expertise has been instrumental in building this energy efficient school," said Kai Mykkänen, Finland's Minister for Foreign Trade and Development.
The green school in Kherson was inaugurated by Minister Mykkänen, who was the guest of honour at the occasion. The school's building elements have been provided by the Finnish company Elemenco, which won a tendering competition run in 2015. The Nordic Environment Finance Corporation, NEFCO, has administered the project and handled the procurement of services and disbursement of funds. The new enlarged school has a capacity of over 410 pupils. Part of the building will also be used as a service centre providing social and psychological support to refugees living in the area. The project is one of many municipal projects supported by the Nordic Energy Efficiency and Humanitarian Support Fund.
"I'm delighted to see that the school is up and running only one year after the tendering competition was finalised last autumn," said Magnus Rystedt, Managing Director at NEFCO. "It has been an honour for NEFCO to be involved in such an important flagship project and make sure that the practical implementation has progressed smoothly thanks to well-functioning teamwork"
Today's inauguration was attended by local school children, Finnish and Ukrainian government officials, and decision-makers from the City of Kherson who have contributed to the realisation of the project and to the construction of the green school in Antonivka.
Watch our video about the school project in Kherson
---