11.11.2022 | News
On Finance Day at the UN Climate Change Conference COP27 in Egypt, representatives of the Ukraine Government and civil society, and the international finance institutions EBRD and Nefco convened at the Nordic Pavilion to discuss the need for a green recovery in Ukraine.
The unprovoked war in Ukraine has caused loss of life and more than 14 million people have left their homes. Damage to critical infrastructure and the environment is putting enormous pressure on people, society, businesses and nature. While the need for reconstruction is immense, it also presents an opportunity to build back better in a sustainable way towards a carbon-neutral and nature-positive future for Ukraine.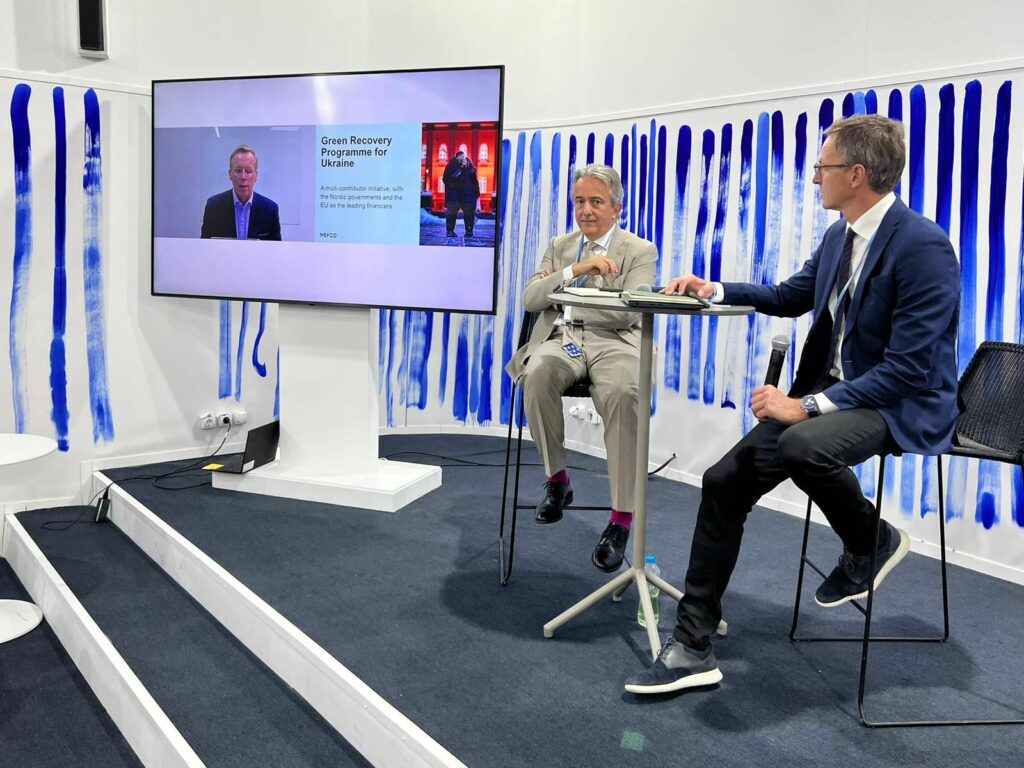 In his keynote speech, Igor Korkhovyi, Deputy Minister for Communities and Territorial Development of Ukraine highlighted that immediate, short-term actions to respond to the emergency humanitarian crisis are naturally at the forefront. In the longer term, recovery plans look at modernisation of the country, the implementation of reforms and the future.
"'Build back better' is the general principle, which includes the green transition as the key pillar. Our vision is that in the future, while modernising Ukraine, we will create a more efficient and more climate-neutral economy," said Minister Korkhovyi in connection with the event.
Minister Korkhovyi concluded that the renovation and modernisation, not only of Ukraine but also of the European economy, should be closely in line with the green agenda. "The commitment that we made at the Paris Agreement based on the COP declarations should be fulfilled and embedded into the strategies and planning documents and they should also be financed."
A comprehensive report on sustainable economic recovery for people and nature by the WWF and the Boston Consulting Group makes a strong case for why the post-war reconstruction of Ukraine must be climate- and nature-positive. The report 'Ukraine – a sustainable economic recovery' also provides recommendations on how this can be done, taking into consideration the situation as it was when the report was published.
Bohdan Vykhor, CEO of WWF Ukraine, highlighted the need to take various approaches when rebuilding Ukraine back better. "In nature, everything is connected. There is no clean water without preserving the forest. Healthy ecosystems are possible only if biodiversity is secured. At least 30% of Ukrainian land should be under proper protection to allow nature, along with food and water systems, to recover," Vykhor said.
WWF's report recommends that recovery plans should be aligned with the transition to a low-carbon economy and all recovery initiatives should be aligned with the 2030 Agenda for Sustainable Development.
"We invest in the future of Ukraine. Investing in a sustainable future means infinite gains for the country, its stability and its resilience."
Francis Malige, Managing Director, Financial Institutions to the EBRD, one of the largest investors in Ukraine, highlighted the need for funding "to keep the lights and heating on during the current emergency, and to support the agricultural sector and the continuation of trade". Malige said that the post-war reconstruction phase can also be an opportunity for the country. "It provides a chance to put Ukraine on a growth path that's even better as we start anew with new technologies, new solutions."
Much of the work should be done on the local level and it is therefore important to involve municipalities and civil society in recovery planning to bring in not only higher ambition, but also help with capacity. Yevheniia Zasiadko, Head of Climate Department, Center for Environmental Initiatives 'Ecoaction', presented seven main principles for a green reconstruction, and called for transparency in the planning process. "We need to prepare for the post-war reconstruction period now. Cooperation between national authorities and the local level is crucial, and civil society brings not only higher ambition, but also helps with capacity for the process."
Nefco's approach to a green recovery
The new Nefco Green Recovery Programme for Ukraine was launched in July 2022. The purpose is to provide financial and technical assistance to municipalities to help them plan and finance a sustainable recovery and support them with rebuilding critical infrastructure in an environmentally sustainable way, in accommodating internally displaced people and in designing long-term local green recovery plans. This goal is to provide swift improvements in living conditions for internally displaced people and permanent residents and ensure that general recovery investments will provide Ukraine with a new, EU-aligned pathway for sustainable reconstruction and a faster green transition.
"Municipalities are key when it comes to rebuilding Ukraine. Nefco is willing to play its role in this and increase capacity building for a green future for Ukraine," Trond Moe, Managing Director of Nefco, said.
Nefco has already started practical recovery project preparations in collaboration with its existing network of municipal clients and the aim is to start carrying out initial projects by the end of 2022. The Nefco Green Recovery Programme for Ukraine will be implemented together with Nordic, European and multinational contributors and institutions.
Since 2010, Nefco has financed over 320 projects in Ukraine, of which more than 240 have been implemented in cooperation with Ukrainian municipalities, for energy-efficiency improvements and modernisations to public buildings, district heating and water and wastewater processes.
For further information
For more information on the Nefco Green Recovery Programme for Ukraine, please visit www.greenrecoveryukraine.org or contact:
Ulf Bojö, Vice President, Green Transition in Eastern Europe, Nefco
ulf.bojo@nefco.int, +358 40 527 3699
Josefin Hoviniemi, Vice President Communications, Nefco
josefin.hoviniemi@nefco.int, +358 50 4646995
---