19.10.2017 | News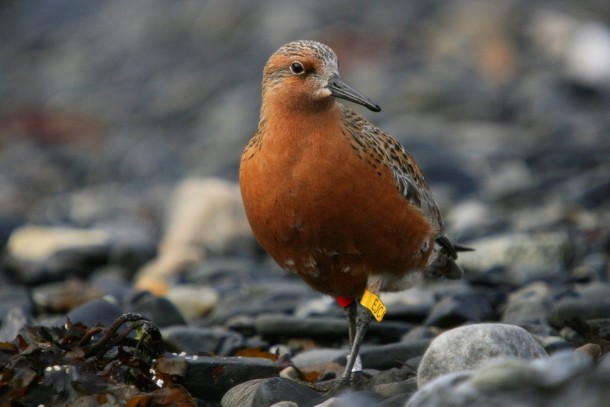 NEFCO, as fund manager for the Arctic Council Project Support Instrument (PSI), and the Conservation of Arctic Flora and Fauna (CAFF), the biodiversity working group of the Arctic Council, have signed a grant agreement to improve the status of declining Arctic breeding migratory bird populations.
The Arctic Migratory Birds Initiative (AMBI) identifies actions that will be undertaken over a four-year period between 2015-2019, protecting Arctic lifestyles and peoples through migratory bird conservation. The aim is to improve the conservation status and secure the long-term sustainability of declining Arctic migratory bird populations.
Arctic breeding birds use as many as eight different flyways to migrate from Arctic breeding grounds to overwintering or stopover sites. The PSI grant will be used to develop an implementation plan regarding the African-Eurasian Flyway and the East Asian-Australasian Flyway. The aim is to highlight on-the-ground actions for habitat protection, including pollution prevention. The project will promote the establishment of a network of protected areas at important breeding, overwintering and stopover sites.
Migratory birds are an important indicator of ecosystem health and seabirds in the Arctic can indicate the health of the oceans. Today, many bird populations, such as the Black- and Bar-tailed Godwit, Red Knot, Dunlin, Spoon-billed Sandpiper and Lesser White-fronted goose, are declining at an unprecedented rate. Declining populations are due to the destruction of coastal wetlands, habitat loss, marine bycatch, unsustainable harvesting, as well as to climate change in the Arctic region and at the overwintering and stopover sites.
As declining species cross international borders, the initiative also seeks to actively engage Arctic Council Observer states, especially focusing on cooperation with China, France, Germany, India, Japan, Republic of Korea, the Netherlands, Singapore, Spain and theUK. In addition, AMBI aims to work both with NGOs and IGOs to ensure collaboration along the flyways to maximize global conservation efforts for Arctic-breeding birds.
"Declining Arctic migratory bird populations is a challenging issue and given that these birds are shared by countries all over the globe, research and conservation action cannot be undertaken solely by Arctic countries. Since safeguarding bird conservation affects both Arctic and non-Arctic countries, it is important for us to combine forces for this crucial work," says Tom Barry, Executive Secretary at CAFF.
"We are very happy to be able to fund this important initiative through PSI and to broaden our Arctic project portfolio to include a project managed by CAFF," comments Henrik G. Forsström, Senior Adviser at NEFCO.
About Conservation of Arctic Flora and Fauna (CAFF)
CAFF is the biodiversity working group of the Arctic Council and consists of national representatives assigned by each of the eight Arctic Council Member States, representatives of Indigenous Peoples' organisations and Arctic Council observer countries and organisations. CAFF's mandate is to address the conservation of Arctic biodiversity, and to communicate its findings to the governments and residents of the Arctic, helping to promote practices which ensure the sustainability of the Arctic's living resources.
About Arctic Council Project Support Instrument
The Arctic Council Project Support Instrument is a funding mechanism managed by NEFCO. The instrument is intended to finance environmental initiatives aimed at preventing and mitigating pollution of the Arctic Region. PSI funding is available to projects proposed by all of the Arctic Council's working groups, once they are approved by the Arctic Council. The current contributions to PSI funds in the form of deposits, pledges and indications stand at EUR 15.9 million. Since 2014, the PSI's governing body, the PSI Committee, has approved or expressed interest in approx. xxx environmental Arctic Council project proposals.
---