10.11.2008 | Insight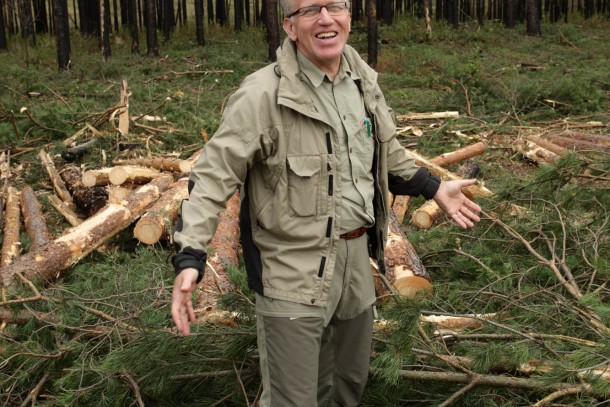 The bleak autumn sunshine offers welcoming warmth as we approach a felling area in Gotsa in the proximity of Grodno in western Belarus. The Grodno Region Forestry Board (PLHO) is responsible for the administration and clearing of the state-owned forests in the region.
The pines have recently suffered from a forest fire, which is why the felling is taking place. Burnt trees cannot be used to produce pulp. Instead, the timber is taken to a sawmill or to an energy company and used to produce heat.
Rindi Energi, an energy company from the island of Gotland, is investigating opportunities of using felling waste and woodchip to produce bio energy. NEFCO and Rindi Energi own two district heating stations in Poland that use bio fuel. Demand for heat is on the increase in Poland, which in turn increases demand for bio fuel, especially at the station in Hajnowka close to the border with Belarus. And this is where the Belarusian woods of Grodno come in.
"The woods are only 90 kilometres from Hajnowka in Poland. If we manage to set up functioning logistics with railroad and road transportation, we could use an additional 130,000 or so cubic metres of woodchip for heat production at Hajnowka," says Urban Larsson, a forester at Rindi Energi.
Forest management in Grodno meets the requirements of the Forest Stewardship Council (FSC), meaning that felling is carried out sustainably. Deputy Director Viachaslau Miskevich from Grodno Region Forestry Board can hardly conceal his pride when we ask him to hold up the FSC certificate for a close-up photo.
"We take great care in planting new trees in clearings that are created by the felling. The Grodno Region Forestry Board cooperates with several nurseries in the area that produce a total of around 7 million saplings each year. As a rule of thumb, we plant some 7,000 saplings per hectare to ensure reforestation," says Viachaslau Miskevich.
"20–30 per cent of felling waste is left on the ground to protect biodiversity. The rest can be used to generate bio energy. According to our calculations, some 70,000 cubic metres of woodchip is needed to produce 150,000 GWh of energy," says Urban Larsson.
NEFCO has estimated that exporting woodchip to Hajnowka for fuel would reduce carbon dioxide emissions by some 35,000 tonnes per year. NEFCO is supporting the project by subscribing to 35 per cent of the shares in the joint venture Rindipol and by granting a loan of EUR 1 million to Rindi Energi.
---