21.12.2010 | Insight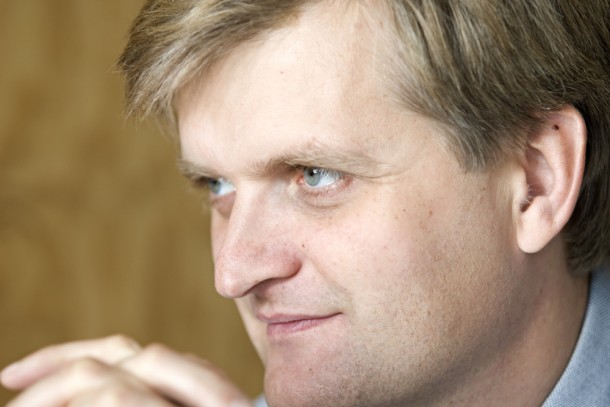 Serpentine roads, breathtaking views and Mother Earth's most beautiful features greet us on the way from the airport to Kvalheim in South-western Norway. We accompany a group of investors, journalists, energy experts and municipal decision makers on the way to witness the inauguration of the Mehuken wind farm.
Rain pours down as the wind turbine blades start revolving and one speech after another is delivered in the biting wind. For a short while, we are at the mercy of the elements but soon find ourselves in Kvalheim's warm and cosy club house being served sour cream porridge, cured meat, juice and coffee.
The new wind farm in Kvalheim boasts eight 2.3 MW units fitted with Enercon E70 turbines. Five Vestas windmills, each with an output of 859 kW, had been erected on the site earlier. The wind farm is located in the outermost archipelago of the Vågsøy municipality where excellent wind conditions ensure that the revolving rotors provide 3,000 households with electricity. Not bad for a locality with 5,996 inhabitants. One of the chief investors in
the wind farm is the utility company Vardar.
"Our investment in the Mehuken wind farm here in Kvalheim is a natural extension to our operations. After all, we invest in renewable energy in accordance with the policy outlined by our shareholders, and this wind farm is a natural addition to our project portfolio," says CEO Johannes Rauboti of Vardar.
Other investors include Kvalheim Kraft, Østfold Energi and Dong Energy of Denmark. Vardar is a utility company owned by the municipalities in the county of Buskerud. Originally called Buskeruds fylkeskraft, the company was renamed Vardar in 2002.
"In 2005, we made a decision to invest in wind power in the Baltics. Through our contacts in Pärnu – which is incidentally Buskerud's twin town in Estonia – we got in touch with the key personnel at Eesti Energia, a company that was keen to invest in wind farms in Estonia," explains Rauboti.
Vardar seized the opportunity by setting up a subsidiary by the name of Vardar Eurus. NEFCO currently holds a ten percent interest in the company that owns wind farms in Estonia and Lithuania. Rauboti confirms that the investments in the Baltics represent an increasing chunk of Vardar's balance sheet.
Construction of wind power has been favoured by a guaranteed price subsidised by the Estonian State. However, as the subsidy, currently EUR 54 per produced MWh, which is paid on top of the market price, only applies to a limited percentage of wind-generated electricity, it is unclear whether the Estonian Parliament will raise the production ceiling. To date, Estonia has built 142 MW of wind power, only five megawatts less than Finland.
Vardar Eurus holds a 25 per cent stake in Nelja Energia, an Estonian project management company that has initiated many of the projects financed by Vardar Eurus and other investors. At the time of our visit to Nelja Energia's head office in Pirita, Tallinn, part of the staff were working on new biogas projects for the municipalities of Oisu and Vinni in Estonia.
"There's a great deal of unharnessed potential in this sector. By producing biogas from cow or pig dung close to large agricultural establishments, we can promote the use of local energy sources that are unaffected by world market prices as well as offer additional revenues for farmers," says Chairman of Board Martin Kruus of Nelja Energia.
The project is to be financed by the newly established Biofond OÜ owned by Vardar Eurus, the Estonian investment company Freenergy and Nelja Energia. NEFCO has recently decided to buy 30 per cent of the shares of Biofond and thereby contribute to the financing of the projects. However, there is a time limit for these types of investments in the Baltics as far as NEFCO is concerned. Under NEFCO's new Baltic policy, the corporation can only finance
projects that benefit the Baltic Sea and these investments will only be extended up to the end of 2011. After that, NEFCO will focus on Russia, Ukraine and Belarus.
"We've established that these biogas projects will reduce phosphorus emissions by close to 57 tonnes per year. And as an additional bonus in this connection,we'll also be able to address methane emissions which will yield an annual decrease of almost 53,000 tonnes in carbon dioxide emissions," says Karl-Johan Lehtinen, Senior Manager responsible for environmental affairs at NEFCO. At present, there is only one operational biogas facility in Estonia: a NEFCO-funded biogas reactor in the village of Valjala in Saaremaa. Fervent efforts are currently being made to launch a similar project in Oisu where the local farmers have committed to supply cow dung for a jointly-owned biogas facility capable of generating heat and electricity for local needs.
"All in all, there are around 3,000 cows in Oisu and the neighbouring villages. Most of the milk is delivered to Tartu where it's processed into cheese and other products. As every cow produces about 6 tonnes of manure per year, it should be more than enough for the foreseen biogas production,"says Farm Manager Aive Hommik of OÜ Estonia.
At the negotiations with project owners and the other investors in the biogas projects, NEFCO has been represented by Vice President Solveig Nordström who has worked with the financing of environmental projects in the Baltic region for over 20 years. Nordström has also worked as a Board Member in Vardar Eurus. She will retire in December 2010.
"It feels great to have been involved in the efforts to build sustainable energy production in the region. Now it's time to hand this, just like other projects, over to my younger colleagues at NEFCO. My hope is that the project will serve as an example that can be applied in other parts of Eastern Europe," says Nordström.
"In fact, we are exploring possibilities to invest in biogas facilities or other renewable energy in the Baltic countries or for example in Ukraine," says Martin Kruus of Nelja Energia.
---