15.05.2020 | News
The Feștelița Local Council and the Nordic Environment Finance Corporation (NEFCO) have signed an agreement to modernise the village's street lighting system by implementing energy-efficiency measures and expanding the lighting network. This will be the first project financed by NEFCO in Moldova.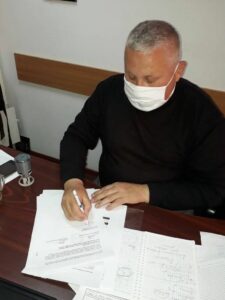 Photo: Nicolae Tudoreanu, Mayor of Feștelița, signing the loan agreement in Festelita.
Feștelița is a village with approx. 3,000 inhabitants in the Ștefan Vodă district in the south-eastern part of Moldova, some 100 km south of the capital Chișinău. The existing street lighting system only covers the central part of the village. It consists of a 6 km lighting network with 100 fixtures, primarily inefficient mercury lamps, which provide weak lighting for the streets and consume a large amount of electricity.
The NEFCO loan from the Energy Saving Credits (ESC) facility will enable the extension of the street lighting network to cover all the streets in the village. In total, some 300 new LED lamps will be installed. In addition, the existing wiring will be replaced with self-supporting insulated wiring.
The total project investment is EUR 125,000, of which approx. EUR 112,000 (MDL 2,180,000) is financed by a loan from the ESC facility and approx. EUR 13,000 (MDL 260,000) by the Local Council of Feștelița. It is estimated that the project will be completed in the first quarter of 2021.
The implemented project will have a positive environmental impact by reducing CO2 emissions and replacing the currently used mercury lamps with environmentally friendly alternatives. It will also lead to improved illumination and traffic safety for the village inhabitants. Additionally, the project will generate cost savings for the local council administration thanks to the energy-efficient LED lighting. It is estimated that electricity consumption will decrease by approximately 50,000 kWh per year, even though the lighting network is expanding, as the new lamps due to be installed are 10 times more efficient.
The ESC facility was launched in Moldova in 2019 to finance municipal investments in energy-saving measures in social facilities such as day-care centres, schools, hospitals and street lighting.
The financing needs of local communities are high in Moldova. Due to local budget scarcity in investment funds, building stock and public services are rarely refurbished. Street lighting is the visit card of each community and appears to be by far the most prioritised investment made by Moldovan communities.
Being a signatory to the Covenant of Mayors East, Feștelița has made significant efforts to improve energy efficiency of its public buildings and their heating systems. As part of its own financial contribution, the local council of Feștelița decided to contract a concessional loan from the ESC facility for improving its street lighting system.
"Thanks to NEFCO's financial support, 11 km of street lighting system will be installed in Feștelița. On behalf of our community I am grateful to NEFCO and I wish for our experience to serve as a good example to other communities that are looking for affordable financing and are willing to make a sustainable change in their development path," commented Nicolae Tudoreanu, Mayor of Feștelița.
"It is an important milestone for us in Moldova to sign our first loan agreement, and we are looking forward to starting the project implementation phase now. We will be providing technical assistance and implementation support to the Feștelița Local Council and look forward to seeing the first project results in spring next year," said Aliona Fomenco, ESC Programme Manager at NEFCO.
The framework agreement between NEFCO and the Republic of Moldova, which acknowledges NEFCO as an international financial institution in the country and enables it to finance public energy-efficiency and renewable energy projects, was signed in June 2017. The agreement entered into force in April 2018, following ratification by the Moldovan parliament.
Since 2010, NEFCO has financed over 80 projects through the ESC facility outside Moldova. Among these, 25 street lighting projects have been implemented in Ukraine, resulting in yearly electricity savings of 17,000 MWh and consequently EUR 8.5 million in annual cost savings.
Read more about the ESC facility
Download a fact sheet about ESC facility
For further information, please contact:
Aliona Fomenco, ESC Programme Manager at NEFCO
aliona.fomenco@nefco.fi, +358 10 6180 647
SINERGETIKA, local implementation support to ESC projects
Nicolae Zaharia, Chief Executive Officer
nicolae.zaharia@sinergetika.co, +373 76 76 45 43
---