30.12.2014 | Insight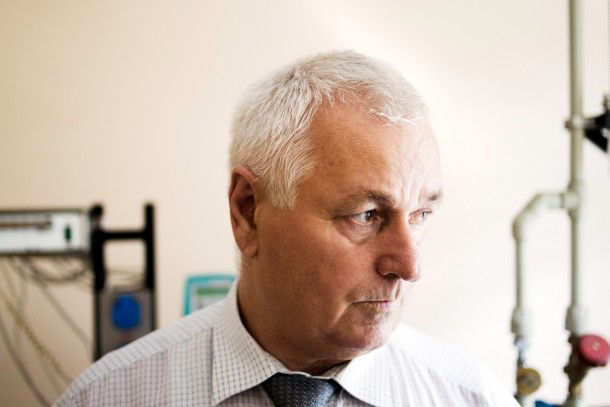 Director Anatoly Kozlenko is great at talking and gesticulating. He is in full verbal flow as
he takes a walk around the Kyiv Energy Efficiency Centre in Darnitsa district on the
outskirts of Kiev, all whilst showing off energy-efficient lights, different insulation
materials, heat pumps and solar collectors.
"Here you can see a cooling unit that uses water as coolant, and here we have rigged up a system to measure electricity usage for different types of light. As you can see from this meter panel, a standard bulb uses a whopping seven times more electricity than equivalent LED lights," he says, hurrying onwards.
The municipal enterprise ME PIU in charge of Kiev's energy efficiency measures holds over 100 meetings and tutorials per year to teach officials, policy makers, entrepreneurs and students in the noble art of saving energy. ME PIU is a communal company that is 100% owned by the city of Kiev. The city is also accountable for all costs incurred by the centre's training sessions and seminars for the various target groups. It is currently free to participate in one of ME PIU's courses, which guarantees a continuous influx of inquisitive, eager-to-learn visitors from near and far.
"Tomorrow, we've got a visit from around 20 company representatives who want to learn some definite tips on how to reduce electricity usage as cost-efficiently as possible, and reduce their company's fixed expenses. Then we've got a visit by a group of mayors from several different Ukrainian towns," Anatoly explains.
ME PIU practises what it preaches – on the roof of the centre, staff have had solar
collectors installed, which over the course of our visit, have produced more energy
than the centre needs. The building's walls have been insulated to prevent heat loss
and a heat pump hums away in the background. Lighting is taken care of with energy-
saving strip lights and LED lights. The centre's staff can check online in real time
how much electricity the centre's solar collectors are producing and if the technology
is working as it should.
There is a significant need for ME PIU's services in the Ukrainian capital. According
to surveys conducted by the company, the city's buildings use an average of 210-300
kilowatt hours of energy per square metre, whilst equivalent figures for Sweden are
30-60 kWh and 50-100 kWh in Germany. Over 90 per cent of the communally-owned
buildings in Kiev consume so much energy that they are in the worst E and F categories,
according to international classifications.
"We have implemented a comprehensive investment programme aimed at reducing
heat energy consumption in over 1,500 communally-owned buildings in the education, culture and health sectors here in Kiev. The entire budget for this programme runs to a total of USD 27 million," explains Anatoly.
He pulls out diagrams and bar graphs to illustrate the project's concrete results so
far. The investment has reduced heating consumption by close to 350,000 gigacalories
which, in turn, has provided an economic saving of one billion hryvnia (UAH). The city of Kiev has financed 37 per cent of the costs, whilst the World Bank has financed 56 per cent and Sweden has contributed seven per cent of the programme's entire costs. The money has been used for a number of purposes, including retrofits of individual heat substations with installation of water heaters and automatic control systems, heat metres, installation of radiator reflectors and new energy-efficient windows.
"We've also used infrared heat cameras to locate the biggest heat loss or leakage areas
in various buildings. It's a superb way to illustrate where the constructional technical
challenges are and where we need to put in the insulation," says Anatoly.
However, there is still a lot to do. The price of electricity and heating is constantly on the rise, which despite all economies made, has forced the city to periodically adjust its energy budget. Last year, the city of Kiev was forced to increase its energy budget by UAH 100 million in order to cover the rising costs. The situation will be particularly worrying this winter, as the war has affected the gas supplies and Kiev's own stock will not be sufficient to provide the entire city with heat. In September when we visited Kiev, only 20 per cent of the city's residents had access to hot water.
We continue, and learn about one of the pilot projects that has been realised with Kiev's
and NEFCO's support. At Nursery 99, they are used to strangers and foreign visitors.
The nursery is in the same part of the city close to the energy efficiency centre, and consequently often serves as the 'shop window' for all sorts of visitor groups.
"We've insulated the roof and walls, modernised windows and doors and fitted new heating elements with thermostats and replaced the lighting with LED lights,"
explains Anatoly.
We take a look at the building's new individual heating substation that is tooled up with Danfoss equipment. The shiny silver pipes reflect the camera flashes. In the nursery kitchen, the staff are cleaning up after the lunch service. A kitchen assistant is scrubbing the hobs on the new energyefficient stove with wire wool and glancing shyly at the guests wandering around. Prior to the project's completion, the nursery used around 360 kilowatt hours (kWh) of energy per square metre. Now when the investments and upgrades are done, consumption is only 118 kWh per square metre.
"A nursery of this size is saving around UAH 300,000 per year thanks to the focused investments in energy efficiency. The investment will pay for itself in around 5
years' time," says Anatoly.
But what would a nursery be without children to fill it? After we have admired all the technical details and refinements, we visit the playroom to see the little ones. The children are sitting up straight, staring at us, in the middle of creating colourful butterflies
and long-haired princesses on their sheets of paper. The soft toys are carefully arranged on the pink shelves.
"Before the project, it was normal for the temperature in this room to be around 15-16
degrees Celsius in wintertime, but now we have an even, stable temperature throughout
the building," says the nursery's Director Antonina Moshkovych.
Nursery 99 will not be the only one of its kind in Kiev. As a link in the city's future investments in energy-efficient solutions, NEFCO will also contribute their share. ME
PIU has recently signed a loan agreement for EUR 5 million for a joint project that
aims to implement similar investments in a long list of communally-owned buildings.
The total investment for the project is EUR 9.3 million. In addition to the support
from NEFCO and the city of Kiev, the project has received financial backing from
USAID, Sida and the Eastern Europe Energy Efficiency & Environment Partnership
(E5P). The focus of the project is to install and upgrade individual heat substations,
comprehensive thermal insulation and upgrade of lighting systems in the buildings
that are to be renovated.
"We are happy to support the investments in energy-efficiency in the Ukrainian capital in a situation where energy consumption is the buzzphrase on everyone's lips; in addition to the issue becoming even more pressing due to the ongoing conflict in the east of the country. I hope that our project can serve as an example for similar investments in other parts of Ukraine," says NEFCO's Senior Investment Manager Ulf Bojö.
---