30.06.2022 | News
Emerging Europe gives international recognition to the Nefco project in its fifth annual Future of Emerging Europe Summit and Awards.
The Nefco-financed project for Energy Efficiency in Public Buildings in Lutsk, Ukraine, won the Green Energy Initiative Award at the Emerging Europe Awards held on 23 June 2022 in Brussels, Belgium.
The EUR 9.5-million project, which encompasses 31 renovated educational, culture and sport buildings and facilities, was highlighted for contributing to climate change mitigation and the transition to a green economy in Ukraine as well as improvements in the quality of life of the local community.
The award was received on stage by Iryna Chebeliuk, Deputy Mayor of Lutsk, which is a city with some 217,000 inhabitants in north-western Ukraine.
"Energy efficiency is important for the functioning and development of the city in current times. That is why Lutsk City Council is introducing energy-saving solutions for the buildings of our territorial community," said Chebeliuk.
"We are proud that the joint project between Lutsk City Council and Nefco won the prestigious Emerging Europe Award. We thank our colleagues for their joint work, which not only received high recognition but also became a model for modernising and climate change adaptation of municipal buildings, aiming to foster climate change mitigation and the transition to a green economy," Chebeliuk added.
Inaugurated in October 2021, the large-scale energy-efficiency project is expected to result in annual reductions of 11,000 MWh in heat, 600 MWh in electricity and 4,300 tonnes in CO2 emissions. In addition to cost savings, the project has created good and comfortable learning environments for over 26,000 schoolchildren and teachers in the city of Lutsk.
The project was financed with contributions from the city of Lutsk, the Eastern Europe Energy Efficiency and Environment Partnership (E5P), Sweden, and Nefco.
"The E5P donors, which include the EU, Sweden and 15 other countries, are delighted with this award for the city of Lutsk. The project is a bright example of a typical energy-efficiency investment co-financed by the E5P grants across Ukraine. Support for critical municipal infrastructure and services is now needed more than ever to mitigate the war impacts and also for the future post-war recovery of Ukraine," said Kateryna Stasiuk, E5P Fund Manager, EBRD.
Yaroslav Melekh, National Programme Officer for Environment, Climate and Energy Efficiency from Embassy of Sweden in Ukraine commented: "Since 2011, Sweden in collaboration with Nefco has provided a continuous support to Ukraine's aspiration to achieve green transition, wherein municipalities play an important role. Targeting energy efficiency is instrumental in reducing dependence on fossil fuels, while enhancing country's energy security, that is important more than ever during the Russia's invasion of Ukraine. We congratulate the municipality, Nefco and all the partners on this achievement and hope that such a success story could be an inspiration for other Ukrainian cities to proactively engage in enhancing their energy resilience."
To implement the awarded project in Lutsk, Nefco engaged professional partners such as the law firm Sayenko Kharenko and consulting and engineering company Sweco, which were both integral to the successful project and appreciated for their comprehensive support and expertise.
"This award is an important recognition for our partners and us of our work towards the green transition in Ukraine that Nefco has carried out since its establishment in 1990 and in Ukraine since 2010. Our work continues. We are actively collaborating with our clients in Ukraine despite the war," said Julia Shevchuk, Chief Investment Adviser, Nefco.
Emerging Europe is a social enterprise and growth hub focused on 23 countries of Central, Eastern and South-Eastern Europe and the South Caucasus. The summit and the award ceremony were held for the fifth time this year.
More information about the project
Download the project fact sheet
Watch the project video
Press release about the project inauguration (19 October 2021)
For further information, please contact:
Ulf Bojö, Vice President, Green Transition Eastern Europe, Nefco
ulf.bojo@nefco.int, +358 10 6180 637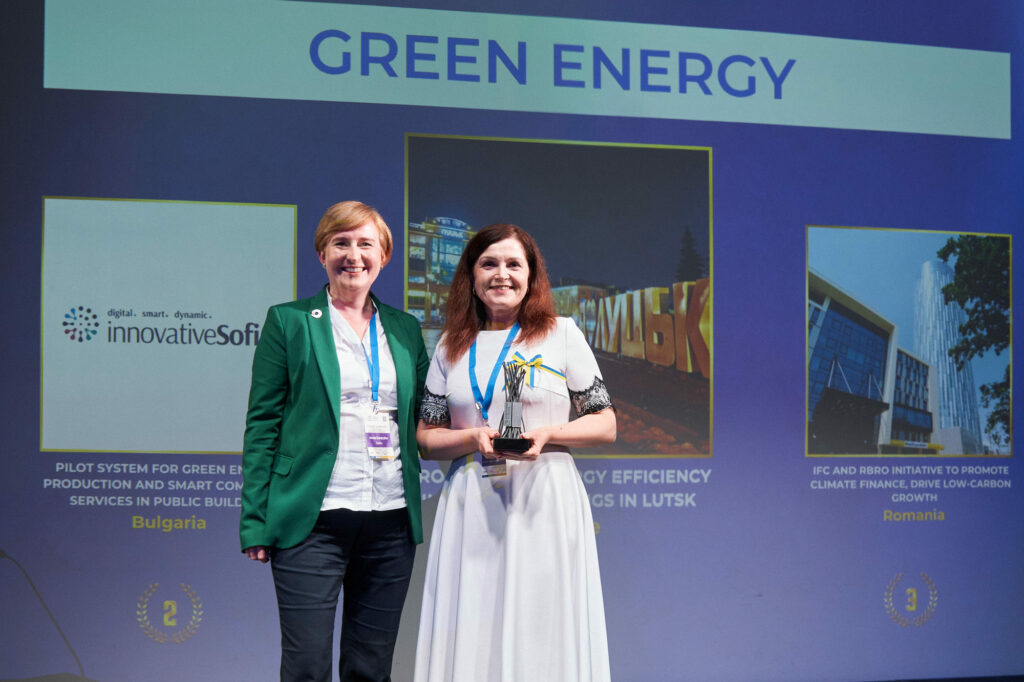 ---