16.02.2023 | News
Deliberate Russian destruction of Ukrainian infrastructure has left several Ukrainian cities struggling to provide their citizens with basic electricity, heating and water. Danish funding is supporting temporary restoration and long-term innovative solutions to keep district heating infrastructure in operation in Eastern Ukraine.
Denmark is one of the biggest contributors to Ukraine in relation to its size. Humanitarian and rebuilding efforts are channelled through a number of selected partners. Due to Nefco's expertise and long-term and broad experience in financing green projects and working directly with Ukrainian cities, it is one of Denmark's strategic partners.
With some EUR 4.5 million in additional funding from Denmark channelled through Nefco, new containerised mobile boiler units have been delivered to Ukraine while the war continues. These 20 gas boilers, with a capacity of 39 megawatts, will ensure district heating supply to over 180,000 people, which is 80% of the total population of the city where they are to be installed. Some 10% of the Ukrainians who will benefit are internally displaced.
"Denmark and Ukraine are very close partners, and it is good to see that our partnership can also support critical heating infrastructure in Eastern Ukraine. Keeping heating on is of crucial importance for Ukraine's resilience and fighting power. In addition, it has a positive impact on Ukraine's CO2 footprint", comments Ole Egberg Mikkelsen, Denmark's Ambassador to Ukraine.
The funded project will cover some 30-40% of the citizens heat demand. Measures include assembling and installing the new boilers, laying new pipes, preventative steps to help keep the heat supply system from freezing during the winter and system maintenance to ensure continued, reliable operation.
The new boilers will make heat production more efficient, and thereby reduce gas consumption by some 1.70 Mm3 annually. This will result in approx. 3,400 tonnes of annual CO2 reductions.
"We are very happy to be able to continue our good cooperation withDanida Sustainable Infrastructure Finance Programme on this and other projects in Ukraine to support maintaining and greening of critical infrastructure. The importance of this support from Denmark cannot be understated and is critically needed during these extremely challenging times," comments Bo Nyhus, Investment Director at Nefco.
Since 2021, Nefco has managed grant funds for the Danish Danida Sustainable Infrastructure Finance (DSIF) Programme, financed by the Ministry of Foreign Affairs of Denmark. Presently, three projects are under implementation in spite of the on-going war. The aim is to add new projects and swiftly build back better and greener during the coming years.
For further information, please contact:
Bo Nyhus, Investment Director, Nefco
+358 10 6180 665, bo.nyhus@nefco.int
Irina Fedorenko, Investment Adviser, Nefco
+380 96 270 9622, irina.fedorenko@nefco.int
About DSIF
Danida Sustainable Infrastructure Finance (DSIF) is a facility under the Danish Development Cooperation, Danida, funded by Denmark's Ministry of Foreign Affairs. DSIF offers grant subsidised loans to sustainable infrastructure projects without access to commercial financing in 24 developing countries. The projects must contribute to sustainable development in the recipient country in line with the UN Sustainable Development Goals (SDGs). A typical loan has 10 years' maturity and is issued in USD or EUR. DSIF is administered by the Investment Fund for Developing Countries (IFU) based in Copenhagen, Denmark. Read more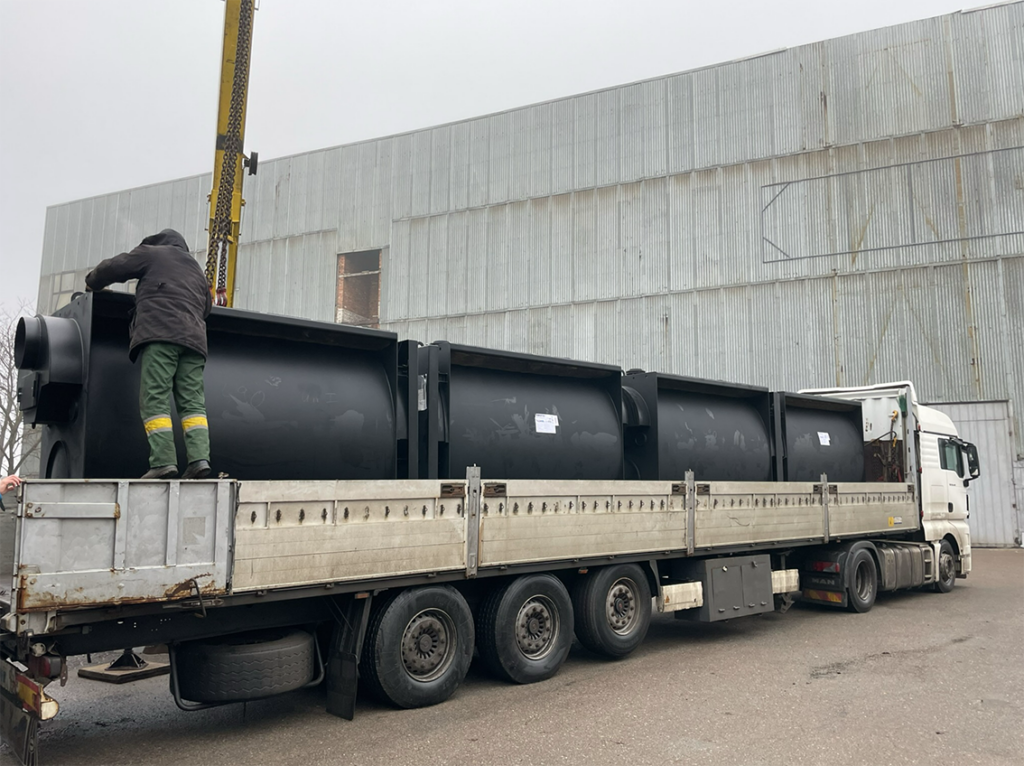 Photo: Mobile boiler units arriving to Ukraine.
---