08.06.2018 | News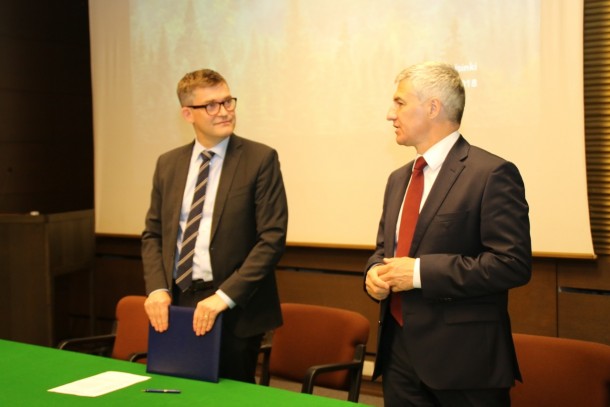 The Government of the Republic of Karelia and NEFCO have today signed a memorandum of understanding (MoU) regarding cooperation on renewable energy, solid waste management and reduction in black carbon emissions from energy production.
The aim is to define projects for which NEFCO and the Northern Dimension Environmental Partnership (NDEP) could provide financing and implementation support. Project proposals include initiatives to reduce Short-Lived Climate Pollutants, including black carbon emissions, by switching from fossil fuels to locally available biofuels in the city of Belomorsk and the settlement of Pindushi. Another project, based on earlier approved financing by NEFCO and NDEP, would comprise solid waste management in order to decrease waste generation and improve its processing. Both projects contribute to the process of exclusion of the Barents Environmental "Hot Spots" in Karelia.
In addition, the Republic of Karelia and NEFCO will look into other project opportunities within the framework of the NEFCO administered Arctic Council Project Support Instrument (PSI).
"We are pleased to see that the Government of the Republic of Karelia is willing to take important measures to prevent further climate change in cooperation with the Nordic countries. The people in the region will also benefit from improved environmental conditions that these projects will lead to once implemented", says Managing Director Magnus Rystedt from NEFCO.
NDEP Support Fund is a multi-donor fund that became operational in 2002 and is made up of contributions and donations from the European Union, the Russian Federation, Belarus, Belgium, Canada, Denmark, Finland, France, Germany, the Netherlands, Norway, Sweden, and the United Kingdom. NEFCO acts as an implementing agency for NDEP.
The Barents Hot Spots Facility (BHSF) provides grants for the clean-up of the so-called environmental Hot Spots in the Russian Barents region, the coastline of the Barents Sea. The BHSF is managed by NEFCO on behalf of the Nordic Governments. The BHSF mainly provides grants to finance technical assistance such as pre-feasibility and feasibility studies, business and financing plans, as well as environmental impact assessments. The facility does not, as such, provide project financing, but can, at times, allocate funds for certain projects.
The Arctic Council PSI is a voluntary, non-exclusive mechanism that can use a broad range of funding arrangements, including grants and revolving instruments. The PSI is administered by NEFCO, and the fund provides financing for priority pollution-mitigation projects approved by the Arctic Council. The PSI is governed by a PSI Committee, which is composed of representatives of the contributors, currently from Finland, Iceland, NEFCO, Norway, the Russian Federation, the Saami Council, Sweden and the United States.
For further information, please contact:
Kari Homanen, Special Adviser, NEFCO
kari.homanen [at] nefco.fi, tel: +358 10 6180 652
---