21.12.2017 | News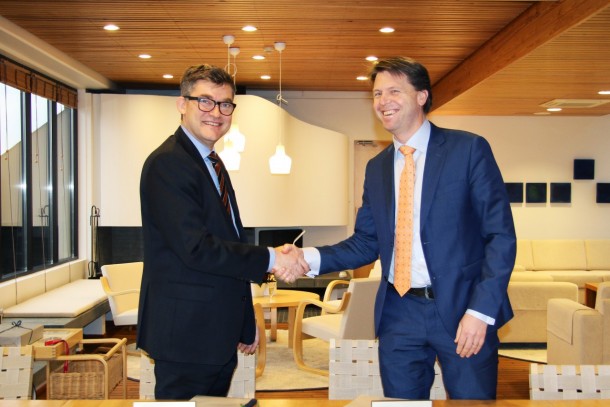 The Nordic Investment Bank (NIB) and NEFCO have today signed a loan agreement totalling EUR 30 million. The loan to NEFCO will be used for the newly agreed investment in higher education institutions in Ukraine.
NEFCO's contribution to Ukraine was signed with the Ministry of Finance in Kiev earlier in the week on 19 December. In the initial phase, energy-efficiency improvements will be made at seven universities in Chernihiv, Kharkiv, Kiev, Lviv, Poltava, Sumy and Vinnytsia. At a later stage, more institutions will be selected for the implementation of energy-efficiency improvements.
"We have had very close and good cooperation with NIB since the inception by NEFCO, and we are therefore very glad that NIB is the first international financial institution that is lending capital to us and enabling our first sovereign loan," says Managing Director Magnus Rystedt at NEFCO.
"As NIB is a Nordic-Baltic international financial institution, it is very important for us to support NEFCO financing an energy efficiency project in a neighbouring area", says Björn Ordell, Vice President, Head of Finance at NIB.
The work with the higher institution project is expected to start in 2018 and to be completed by the end of 2022, and the total costs of the investments are estimated at EUR 160 million. NEFCO's loan to Ukraine is partially guaranteed by the Swedish International Development Cooperation Agency (Sida). Other financiers to the higher institution project are the European Investment Bank, the Eastern Europe Energy Efficiency and Environment Partnership (E5P), the EU Neighbourhood Investment Facility and the Nordic Environmental Development Fund.
NIB is an international financial institution owned by eight member countries: Denmark, Estonia, Finland, Iceland, Latvia, Lithuania, Norway and Sweden. The Bank finances private and public projects in and outside the member countries. NIB has the highest possible credit rating, AAA/Aaa, with the leading rating agencies Standard & Poor's and Moody's.
---