07.01.2015 | News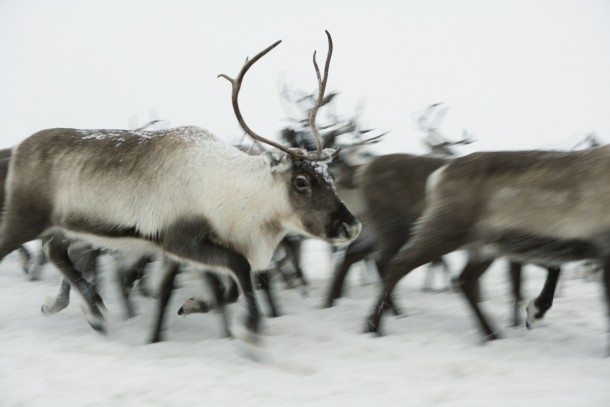 The Arctic Council Project Support Instrument (PSI) has approved a project to upgrade energy production at a reindeer herding base outside the village of Lovozero, which is located in the Murmansk region of Northwest Russia.
The village, which is about 90 km from Olenegorsk is largely inhabited by indigenous Sámi reindeer herders.
Under the project, a windmill with a capacity to generate 5 kW of electricity will be installed, and the current diesel generator will be replaced with a new one, a process which will reduce harmful emissions of black carbon and improve energy safety for the local community. The new diesel-electric generator and the accumulator invertor system will be installed into a mobile container, which will provide power to one of the community's reindeer herding posts outside the village.
Overall, the project will be beneficial to the environment by reducing emissions of black carbon, particulate matters, carbon and sulphur dioxides as well as nitrogen oxides. These emission reductions will also have a favourable impact on the health situation in the local community.
"The project will be implemented in a remote location, which has no access to electricity networks or grids. By setting up an autonomous energy system and partly rely on renewable energy, we can demonstrate to other communities that it pays off to invest in the environment", says NEFCO's Special Adviser, Husamuddin Ahmadzai.
"The Lovozero project will generate positive social effects by helping the Sámi reindeer herders to maintain their indigenous culture and lifestyle", says NEFCO's Senior Investment Manager, Amund Beitnes.
The PSI is a funding mechanism managed by NEFCO and is intended to finance environmental initiatives aimed at preventing and mitigating pollution of the Arctic Region. Projects funded under the PSI scheme have to be approved by the Arctic Council, and the funds are typically disbursed as grants, contingent grants and other revolving instruments, such as loans on concessional terms.
The PSI accepts contributions from Arctic Council members, observers and other interested parties. The current contributions to the PSI funds in the form of deposits, pledges and indications stand at EUR 15.9 million.
Learn more about the Arctic Council
Learn more about the indigenous Sámi people
---