21.12.2015 | Insight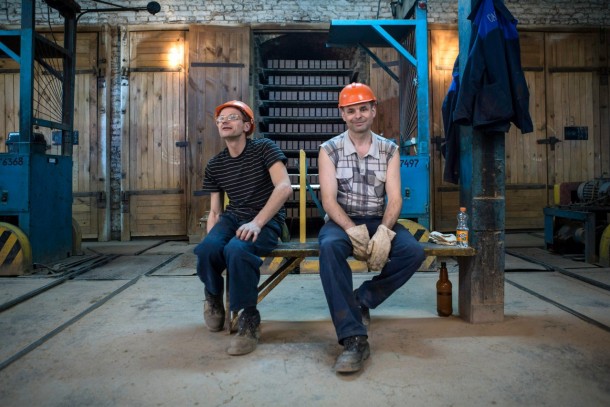 German heavy metal music booms from the car's speakers as we approach Vitebsk, north-eastern Belarus. The beautiful natural landscape flickers past the windows whilst the singer's hoarse roaring voice hurls us back to the urban reality. We have been picked up in the car by consultant Mikhail Vasilevich in Minsk and are on the way to the OJSC Keramika factory in Vitebsk to take a look at the local reality of what happens on the factory floor.
OJSC Keramika manufactures bricks and drainage pipes for the construction industry in Belarus and Russia. A few years ago, the company sold almost 70% of its products to Russian customers. Now the financial crisis and the Russian ruble's drop in value have messed up businesses to the east. Today, exports to Russia only account for 25-30% of the company's turnover, which has forced Keramika to find new sales markets for their products. Construction is an industry that is sensitive to economic fluctuations. You have to always be one step ahead and make continuous risk assessments. Currently, it is bricks for houses or large ceramic walls that are selling like hot cakes. There is also need for construction materials for a wide range of new buildings going up in the large cities, where high-rises are taking shape thanks to the governmental stimulus policies and financial backing from the Belarus government.
Last year, Keramika made an average of around 450,000 bricks per day. Demand for Keramika's products is particularly constant in summertime, as people renovate and build new properties at a rate of knots, both in respect of dacha second holiday homes and construction in the cities. However, competition is tough, and it is essential to get the right price point on products. Keramika is fighting for its place in the sun with six other competitors on the Belarus market.
"Local fuel prices have recently gone up by 26%, which has a knock-on increase for our production costs, making our competitiveness harder to maintain," says Keramika's CEO Pyotr Prizhitomsky.
Electricity and heating costs have previously comprised around 32% of the company's costs, but now these prices are expected to sky-rocket, impacting on profitability and mess up company management. This is why Keramika has decided to improve its electricity production using a loan from NEFCO's Facility for Cleaner Production. This investment has enabled a modernisation of the ventilation system and the installation of a new gas-fired cogeneration plant and two hot water boilers, generating cash in the kitty.
"The investment has helped us to avoid procurement of expensive grid electricity by around 7,538 thousand kilowatt-hours per year. Keramika's electricity consumption is now fully covered by our own production," says a contented Chief Energy Specialist Nikolai Bizunkov.
The savings free up capital, which in its turn is used to repay the load. According to the preliminary calculations that have been made, the loan will be repaid in full to NEFCO within four years. We are on a walkabout through Keramika's factory areas to take a look at the new boiler. Keramika is relying on German technology with a Viessman boiler.
"At one stage we were considering installing a boiler that could burn biomass, but we realised it would be difficult to obtain chips or pellets, so instead we installed a boiler that uses gas. Our heating plant is entirely automated. We produce both electricity and heating for domestic use, which is an efficient way of providing the buildings with energy," says Nikolai Bizunkov.
The avoidance of expensive grid electricity also provides environmental benefits in the form of reduced emissions of carbon dioxide, sulphur dioxide, nitrogen oxides, carbon monoxide and volatile organic compounds. The courtyard area outside the plant is cluttered with multiple neat piles of bricks, as far as the eye can see. In one of the factory buildings, bricks are sorted and loaded onto wooden pallets, awaiting pick-up by a forklift truck. The sunlight streams through the dusty windows to create a magical illumination, as we track the back-breaking work on the conveyor belt.
It is rarely worthwhile to rest on your laurels in the business world. This summer, Keramika is already planning to open a new shop in order to reach even more customers. Company management intends to modernise the production lines to begin comprehensive production of porcelaincoated bricks. The furnaces will be modernised and the production lines will be automated.
"We estimate that we can implement the project by the end of 2017. The investment costs look to be around EUR 25 million," reveals Keramika's CEO Pyotr Prizhitomsky.
---