The Nordic Green Bank accelerating the green transition
Nefco is an international financial institution (International Financial Institution is a financial institution that has been established by more than one country, and hence are subjects of international law. Its owners or shareholders are generally national governments.IFI) that finances the initial scale-up of Nordic green solutions on international markets. Founded in 1990 by the five Nordic countries, we serve the interests of our owners, Denmark, Finland, Iceland, Norway and Sweden, and take concrete actions to accelerate the green transition.
Our task is to scale up Nordic green solutions
Nordic green SMEs lead the way in many fields, but they might miss their growth potential without proper funding. Being fairly small they lack the unicorn hype of startups, yet they seem too small and risky for mainstream banks. Our task is to accelerate the shift to green by financing the initial scale-up of Nordic environmentally and climate-friendly solutions in international markets.
We are ready to risk for green
We are not depending on annual state budgets, in other word, taxpayers' money. The funds initially invested in Nefco have grown and been reinvested several times. We are ready to take the initial risk if there is a green upside. Our involvement makes projects bankable and mobilises other investors to invest in Nordic solutions. If we never fail, we probably haven't risked enough. Trying and testing solutions is a bottom-up approach. It's a real-life alternative to top-down spending.
We expect more than Return on Investment, we expect Return on Impact
Our happiest moments are when a Nordic green entrepreneur has scaled up internationally or when another type of green project has encouraged others by demonstrating what is possible. We evaluate project proposals using the EU Taxonomy classification, the Sustainable Development Goals and our own environmental and sustainability criteria. We expect more than Return on Investment: we expect Return on Impact.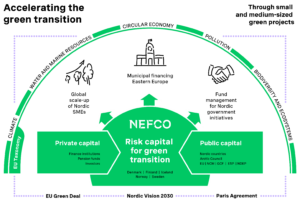 What do we finance?
We finance and implement small and medium-sized green projects outside the Nordic countries through our own investments on market terms, and trust funds with incentives and blending.
Green transition with Nordic SMEs
We finance Nordic private projects that aim to scale up on global markets through Nefco's own equity (investment fund) blended with private capital and other funding.
Green transition in Eastern Europe
Financing small and medium sized, public sector projects using concessionary loan financing, and blending loan financing with grant programmes from Nordic governments, the EU and other countries.
Fund management for other Nordic government initiatives
Our fund management includes assignments from governmental organisations such as Nordic governmental institutions, Arctic Council member states and the Green Climate Fund for green projects from the Arctic to Africa. These can be results-based or other types of grant programmes, which do not include investments with Nefco's own funds.
Read more about our financing options >>
Nefco is a true and original "Nordic First"
At the time we were founded, we were probably the world's first green investment bank. Over the years, we have gained practical experience and expertise of financing projects mainly in Eastern Europe and other emerging markets, including the least developed countries (LDCs). Today, we have a significant network within the green community and a proven ability to connect stakeholders and various financiers to relevant projects.
We work closely with the environmental authorities and other governmental institutions both in the Nordics and in the project countries, other Nordic financial institutions, as well as business, trade and innovation councils of our owner countries.
Read more about how we mobilise funds through partners and co-financiers >>
Job opportunities
Today we are about 50 employees in Nefco. Our goal is to recruit and retain personnel that possess the suitable competencies and skills. To check out job opportunities or send us an open application for possible open positions in the future, go to our Job opportunities page.
Guidelines and policies
As we only finance projects that will generate positive environmental and climate-related impact, there are tight restrictions and rules on how we select projects for financing and use and monitor funds. In order to mitigate potential misconduct, we have set guidelines for both our internal processes and our cooperation partners and beneficiaries to follow.
Read more about our legal framework and guidelines >>
How possible sanctions affect our activities
Nefco's own funds and funds managed by it can only be used to finance projects which benefit the environment and not to support any type of sanctioned activities. Read more >>
Про Нефко українською мовою >>
Glossary of Acronyms
We have prepared a glossary of acronyms and abbreviations that are used in our activities, documentation and operational environment. The glossary is available here.