Funds assigned to Nefco since 1995
Nefco's paid-in capital and retained earnings form the basis for its investment activities. At the end of 2021 Nefco managed funds for a total of EUR 534 million.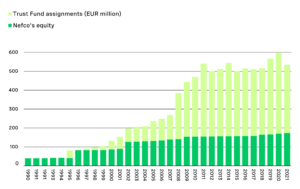 Investments and projects as per environmental driver
Since the beginning of 2021, Nefco has adopted the EU Taxonomy for sustainable investments framework as its primary classification system to identify investment projects. Projects are categorised based on whether the economic activity is eligible and aligned. Based on a preliminary assessment, 76% of Nefco's investment portfolio in 2021 was Taxonomy eligible.
Assessment against EU Taxonomy criteria in 2021 – Number of projects in %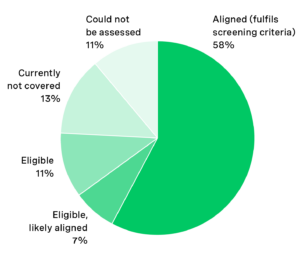 Active projects at the end of 2021
At the end of 2021, Nefco had a total of 400 active projects in its portfolio. This number includes investments made from our own capital and trust fund projects. The majority of the projects in the active portfolio are related to climate change mitigation, mainly through energy efficiency measures or the production of renewable energy. The number of projects related to the sustainable use and protection of water and marine resources, pollution prevention and circular economy is increasing.